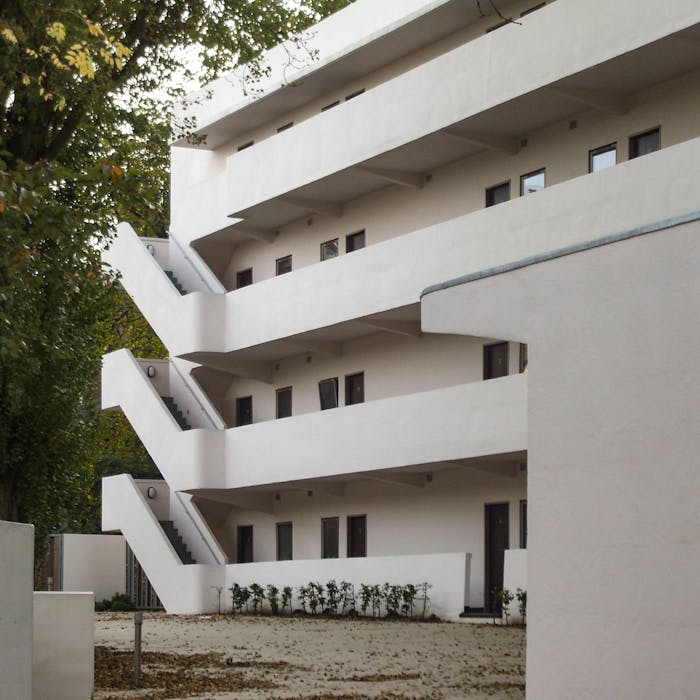 The Isokon Building - London's experiment in minimalist urban living
The Isokon building, also known as Lawn Road Flats and the Isokon Flats, is a modernist block of flats in affluent Belsize Park, London. Its experimental design saw it become a centre for artistic thought (and espionage) in the 1930s and 1940s.
The block was commissioned by Jack and Molly Pritchard, who wanted a new type of minimalist housing in the new Modernist style. Their hope was to foster an egalitarian community spirit appropriate for a new world.
Their friend and associate Wells Coates was the architect. He used reinforced concrete for his design (the first time the material had been used in a British domestic building), setting the structure radically apart from the surrounding brick and stone Edwardian architecture. The choice of material was a reflection of the Pritchards' social vision, connotative as it was with Continental mass social housing. The building was painted a very, very pale pink.
The Isokon building opened on 9th July 1934. It had communal balconies to encourage social interaction and exchange. A kitchen on the top floor supplied meals to each apartment via dumb waiters, freeing the inhabitants to socialise, think, discuss, and work. This became the Isobar restaurant in 1937.
Isokon became a hub for modernist thought and design in London. Famous designers and teachers from the Bauhaus school in Germany, including architect Walter Gropius and designer Laszlo Moholy-Nagy, sought refuge there as the Nazi regime came to power. Fellow Bauhaus teacher Marcel Breuer designed modernist furniture for the flats, using new industrial materials such as plywood. Thinkers, writers, artists, and intellectuals all came and went during this period.
It was this transitory, international nature that lent itself so readily to spying, and it is estimated that between the 1930s and 1960s, some 30 Soviet agents lived at Isokon. Europe's liberal intelligentsia were engaged in a war of ideas with the rising tide of fascism, and many Isokon residents looked towards the Soviet Union as their ideal society. Pritchard himself had embraced communism whilst studying at Cambridge University. 
An Austrian Isokon resident, Arnold Deutsch, was revealed to be a Soviet spy, and recruited the famous "Cambridge Five" spy ring, often from a bench in nearby Regent's Park. The building's opening was photographed by Edith Tudor Hart, herself a Soviet agent. 
The novelist Agatha Christie moved into Isokon in 1941 with her husband, archaeologist Max Mallowan, when her house in Devon was requisitioned by the army. It has been postulated that much of the inspiration for her novels of spying and intrigue during this period came from her experiences at Isokon.
The block fell into disrepair in the late 20th century, before being restored as private residences. Today the former garage is a gallery telling the story of Isokon, including its spying connections. The gallery also preserves two original rooms.
Further reading
Links to external websites are not maintained by Bite Sized Britain. They are provided to give users access to additional information. Bite Sized Britain is not responsible for the content of these external websites.