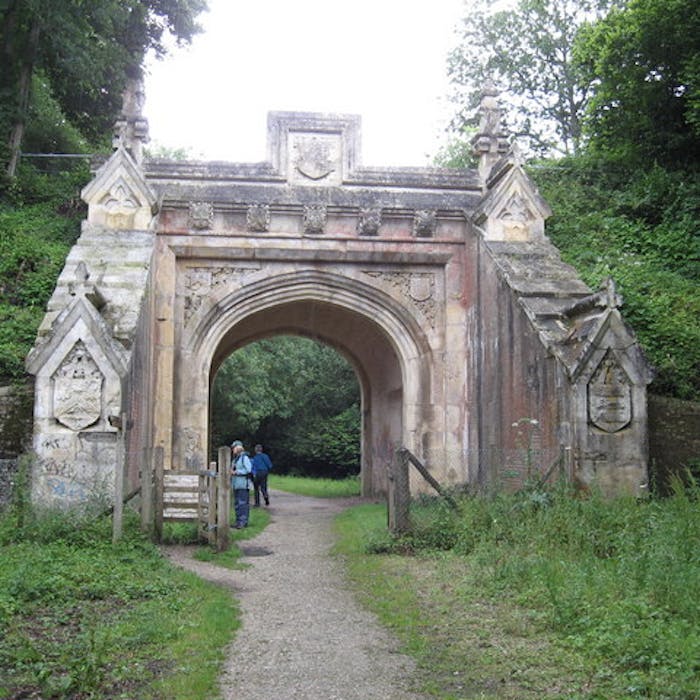 The Lady Wimborne Bridge - quirky remnant of the railway age
Hikers on the Stour Valley Way at Oakley Hill, north of Poole in Dorset, will come across an elaborate railway bridge now called the Lady Wimborne Bridge - which looks more like the gatehouse of a stately home than a railway structure.
Built in 1853 under the name of Bridge 77, the highly ornate design of the bridge reflects the power of landowners over British railway companies in the mid-nineteenth century. Built shortly after the railway came to the town of Wimborne in Dorset, the bridge ceased to function for rail traffic in 1977 and is now a Grade II listed structure.
Lady Wimborne Bridge spans the old carriage drive to Canford Manor, now a private school. It is one of the most highly decorated railway bridges in the UK. The heraldry is that of an ironmaster, Sir John Guest, who bought Canford Manor in 1846 when the railway was being built and had the house remodelled in 1848-51 by Charles Barry, architect of the Houses of Parliament.
Barry also designed the bridge in 1853, to look something like the triumphal arches which often guarded grand country estates, impressing on visitors and passers-by the owners' wealth and rank. The bridge certainly commanded attention and one contemporary newspaper waxed lyrical about 'the splendid archway under the South-Western Railway lately erected on the estate by Sir Charles Barry'.
The name by which the bridge is now known is puzzling since the aristocratic title did not exist until 1880!
Further reading
Links to external websites are not maintained by Bite Sized Britain. They are provided to give users access to additional information. Bite Sized Britain is not responsible for the content of these external websites.