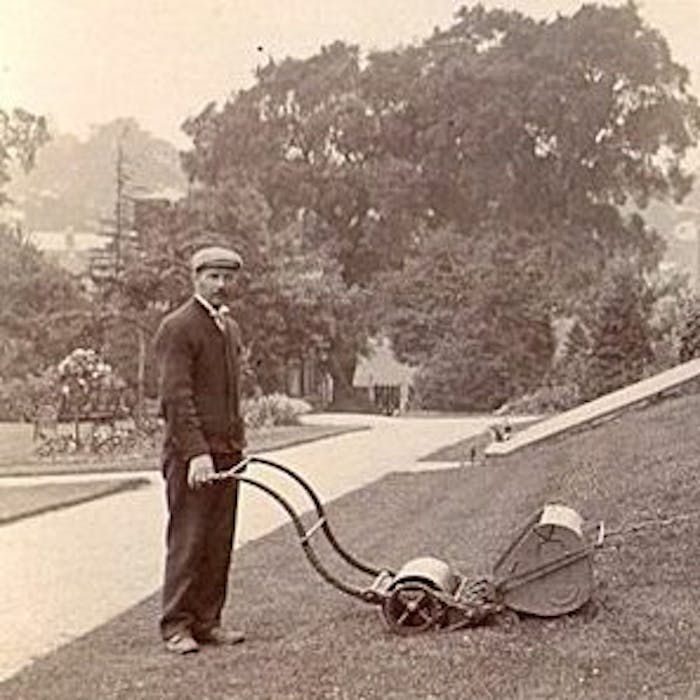 The Lawnmower - a boon for Budding gardeners since 1830
Manicured lawns are an English tradition, though the perfect lawn was once the preserve of the very rich due to the tedious labour-intensive activity required to maintain it. Then the world's first lawnmower was developed by Edwin Budding from Stroud in 1830, apparently then regarded as such a bizarre contraption that he had to test it at night so no one could see it.
The lawnmower was initially designed mainly to cut grass on sports grounds and large lawns. It was immediately obvious it was a much superior tool to the traditional scythe and was granted a patent in 1830.
Two of the earliest Budding machines sold went to Regent's Park Zoological Gardens in London and the Oxford Colleges.
Budding's original design is still easily recognisable in lawnmowers used today. His machine was nineteen inches wide, made of wrought iron and powered by a roller which drove the gears to move a rotating cutting cylinder, with another roller in between which could be adjusted to alter the height of the blades.
The mower was pushed from behind and the clippings were collected in a tray at the front.
The arrival of the lawnmower brought the aristocratic status of a lawn within reach of ordinary people, and the perfectly manicured lawn became a ubiquitous feature of suburbia.
The lawnmower in all its forms is celebrated in the British Lawnmower Museum in Southport, Merseyside with over 250 restored machines and an audio tour. Exhibits include mowers of the rich and famous including Prince Charles and Princess Diana, Brian May, Nicholas Parsons, Eric Morecambe, Hilda Ogden, and Alan Titchmarsh.. They also have a robot mower of the kind now used for motorway verges, golf courses and safari parks (where the lions may have already eaten all the rabbits).
There is also a British Lawnmower Racing Association and an Old Lawnmower Club.
A number of British companies have specialised in mower manufacturing, including Ransomes of Ipswich, which started their production in 1832 and continued as an independent business until 1998.
Further reading
Links to external websites are not maintained by Bite Sized Britain. They are provided to give users access to additional information. Bite Sized Britain is not responsible for the content of these external websites.