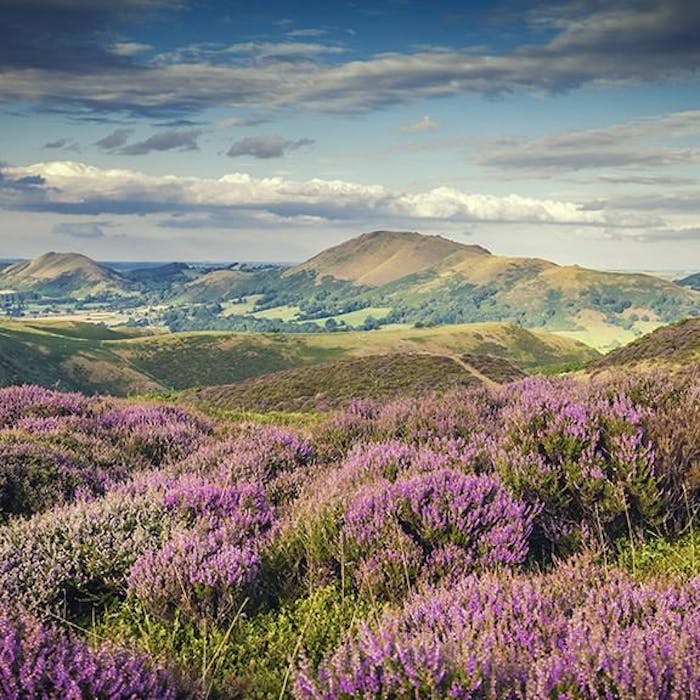 The Long Mynd - breathtaking views from the Shropshire Hills
The Long Mynd is a heath and moorland upland plateau that provides dramatic views in the Shropshire Hills, near the town of Church Stretton. It is approximately 7 miles long by 3 miles wide, and is broadly defined by steep valleys on its eastern side, and a long slope to the western side that rises in a steep escarpment.
The name Long Mynd means 'Long Mountain', and is Brittonic in origin - a Celtic language spoken in Britain and Brittany. It comprises a number of hills and moors. From the summit of nearly every hill, there are extensive views of the surrounding area. One can see as far as Cheshire from the north; and on clear days Snowdonia is visible from the west. Views south show the Clun Forest.
The steep and narrow valleys are covered in a thin layer of acidic soil, able to support only strong grasses, rushes and heathers. Beneath the soil the evidence of an ancient past can be seen, and the rocky outcrops and scree slopes make ideal places to view different layers of ancient rock, dating right back to the Precambrian period.
The area is a popular tourist destination, particularly due to the many footpaths, varied terrain and magnificent scenery and views. Two major footpaths are the Shropshire Way and the Jack Mytton Way. The Long Mynd's open spaces provide a good location for horse riding and mountain biking on the bridleways. The windward slopes to the west attract glider, hang-glider and paraglider pilots, and in the winter, some valley slopes become suitable for skiing.
The Long Mynd Hike is a 50-mile (80 km) competitive race that crosses over the Long Mynd twice and must be completed in under 24 hours. It has been running since 1967 and takes place annually, usually on the first weekend in October.
Historical grazing rights are held by the Long Mynd Commoners who tend a community of ponies on the land. These slow the invasion of trees by pushing into the scrub and bracken, helping to maintain the heathland. They also graze in the pools, eating the pondweed, in turn supporting a healthy population of brown trout and otter. Tree pipit and red grouse are among the wildlife to be found here, as well as the recent arrival of the grayling butterfly.
A large area of the Long Mynd (almost all its upland area) was bought by the National Trust in 1965. It was designated part of the Shropshire Hills AONB in 1958.
Further reading
Links to external websites are not maintained by Bite Sized Britain. They are provided to give users access to additional information. Bite Sized Britain is not responsible for the content of these external websites.