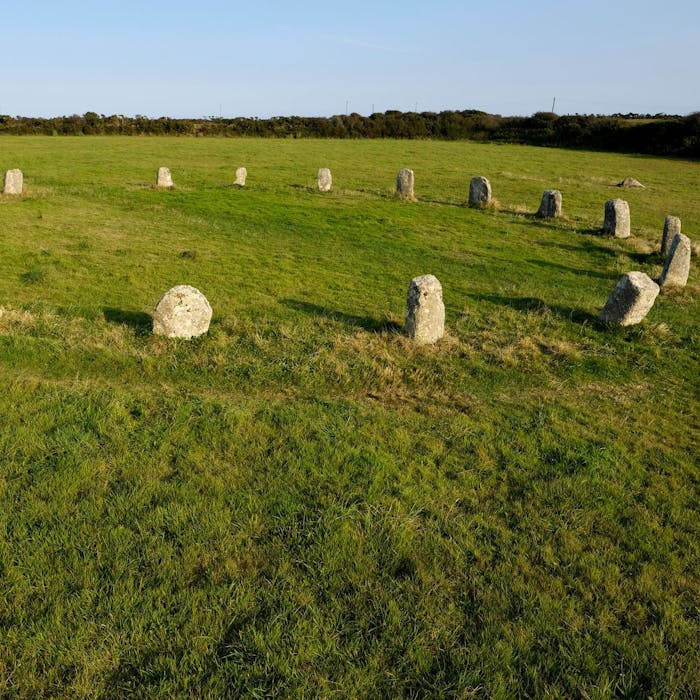 The Merry Maidens - Cornish neolithic stone circle
The Merry Maidens, and also known as Dawn's Men, is a late neolithic stone circle located 2 miles to the south of the village of St Buryan, in Cornwall. The stones are south west of Penzance, and not far from Land's End. They are consist of a restored, Neolithic stone circle of nineteen stones made using local granite.
One of Britain's lesser known megalithic sites, and rarely mobbed by tourists, unlike their more famous counterparts, the Maidens are easy to visit - even having their own bus stop on the number 1 bus from Penzance.
The local legend is that the circle was formed when 19 young maidens were turned to stone for dancing on a Sunday.
Each stone is placed three to four metres apart. A few metres away from the circle to the south are two large stones in the ground, known as The Pipers, associated both geographically and in legend with the maidens, one of which is slightly raised. They date from the Bronze Age, more than 3000 years ago. The megaliths in the circle are all made from locally sourced granite, and graded in height - with the tallest at the south-south-west end. The tallest stone is about 1.4 metres high.
Although apparently having survived well for many hundreds of years, the stone circle was restored sometime between 1862 and 1869. Recent research by the archaeologist John Barnatt suggests that the circle's perfect appearance is more likely to be the product of this restoration. There is also the possibility that not all the stones are original, and that some of the old stones were moved to give the circle its perfect appearance.
The Merry Maidens was first described in 1769 by the antiquarian William Borlase. At that time there was a second smaller stone circle at this site. It still existed in 1872 but seems to have disappeared entirely by the end of the 19th century.
There is also a burial mound here and other standing stones nearby.
Further reading
Links to external websites are not maintained by Bite Sized Britain. They are provided to give users access to additional information. Bite Sized Britain is not responsible for the content of these external websites.