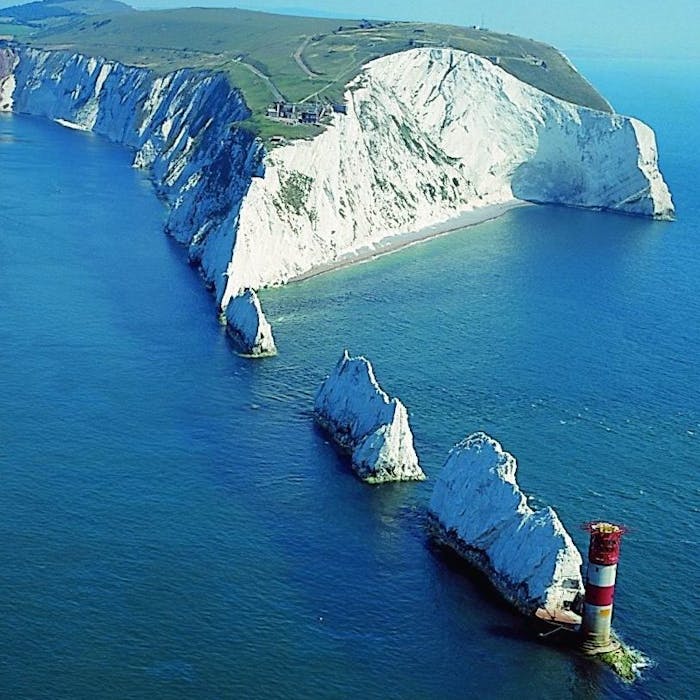 The Needles on the Isle of Wight - make a point of seeing them!
The Needles are a row of three stacks of chalk, rising about 30m out of the English Channel, at the western end of the Isle of Wight, and marked by a lighthouse at their tip.
They are part of a ridge of chalk which crosses the island, and continues to Dorset's Isle of Purbeck.
Originally there were four rocks. The fourth was needle-shaped, and nicknamed 'Lot's Wife' - based on the biblical story of Lot, who was transformed into a pillar of salt. At 36.6m, this rock was the tallest of the four. Despite its collapse in a 1764 storm, 'The Needles' name lives on.
The location has an important strategic history, and two military batteries were built above the Needles stacks. The Old Battery, completed in 1863, was built to defend the west end of the Solent.
Due to concerns that the original battery guns were causing the cliffs to crumble, a New Battery was built higher up, and completed in 1895. Each battery was manned during both World Wars, but German U-boats sank two ships off The Needles in World War I. In World War II, anti-aircraft guns defended the Isle of Wight, and the battery guns fired on German torpedo boats attempting night landings.
The site of the new battery was leased to defence equipment company Saunders Roe from 1955, and it was here that the rockets 'Black Knight', 'Black Arrow' and the satellite 'Prospero' were tested, before being launched in Australia.
The Needles, and the headland, are a well-visited beauty spot under the care of the National Trust since 1975. The batteries are also part of this land, and are viewable by the public. Nearby is Alum Bay, of geological interest and a tourist attraction, noted for its multi-coloured sand cliffs.
There is also a small amusement park situated at the top of the cliff of Alum Bay, with a chairlift operating between the park and the beach. The park features a sweet manufactory and demonstrations; a traditional Victorian Carousel and glass-blowing. Scenic boat trips offer close-up views of the Needles themselves.
Further reading
Links to external websites are not maintained by Bite Sized Britain. They are provided to give users access to additional information. Bite Sized Britain is not responsible for the content of these external websites.