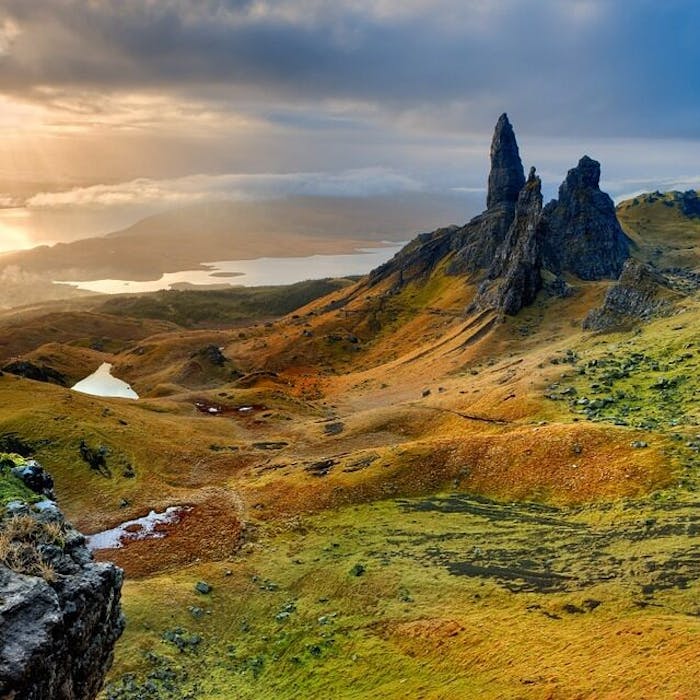 The Old Man of Storr - the sleeping giant of Skye
A beautiful rock formation on the Isle of Skye on Scotland's west coast, the Old Man of Storr is said to be the graveyard of a giant. This intriguing outcrop, set in a stunning landscape, has featured in a number of paintings, and as a backdrop in many films.
The Old Man of Storr is on the Trotternish Ridge—a peninsula in the northeastern part of the Isle of Skye. It was created as the result of a colossal landslip and is a 160-foot pinnacle rock formation named after its likeness to an old man. The Storr, which refers to the group of looming outcrops that include and surround the Old Man, is a title derived from the Norse word for 'Great Man.'
Legend has it that the Old Man of Storr was a giant who resided on the Trotternish Ridge. When he was laid to rest upon his death, his thumb—the "Old Man"—remained partially above ground.
The rock formation towers over the Sound of Rasaay at an elevation of more than 2,300 feet, and a hike up the grassy mounds toward the group of curious pinnacle rocks that surround the Old Man provides magnificent, panoramic views of the water and the surrounding mainland.
The striking landscape of the Storr and the encompassing hiking circuit known as the Quiraing, is popular with tourists and has also features in several films including The Wicker Man, Dragonslayer, Prometheus, and Snow White and the Huntsman.
Further reading
Links to external websites are not maintained by Bite Sized Britain. They are provided to give users access to additional information. Bite Sized Britain is not responsible for the content of these external websites.