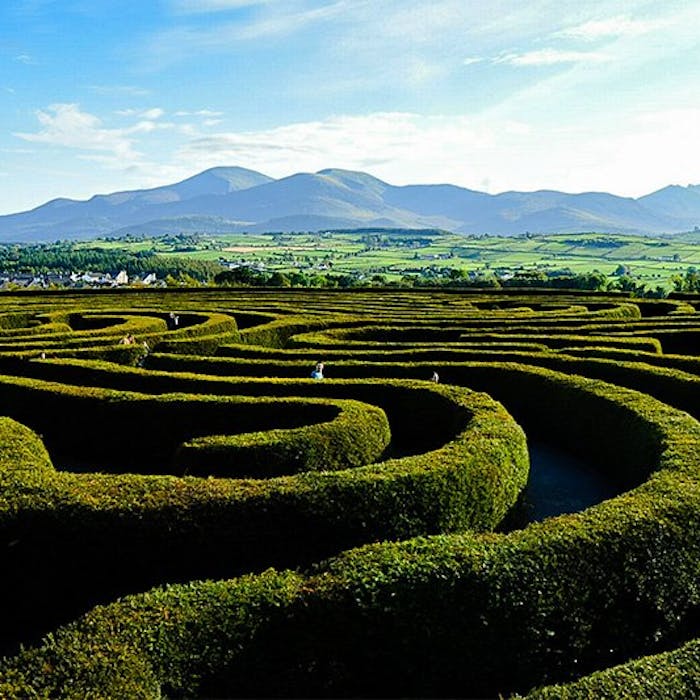 The Peace Maze in County Down
The Castlewellan Forest Park in County Down, Northern Ireland, has numerous attractions including the longest permanent hedge maze in Europe - planted by volunteers to celebrate peace and reconciliation.
The maze is comprised of 6,000 yew trees, many of which were planted by people from all over Northern Ireland during December, 2000. It was once the largest hedge maze in the world, but was overtaken by one in Hawaii in 2007.
It covers 2.7 acres (11,000 square metres) with a hedge length of over 2 miles (3,550 metres), a path length of 3,147 metres, and a hedge height of 1.5 metres, which is lower than the usual hedge maze height, done to facilitate communication and interaction between visitors in different areas of the paths.
Planning for the maze began in 1998, the attraction officially opening on 12th September, 2001. The original concept was created by anthropologist and landscape designer Beverley Lear, though input from nearly 4,000 schoolchildren was taken into account as part of an effort to encourage a sense of common ownership. The entire construction heavily reflects the steps being taken in order to help uphold the peace brought about by the ending of "The Troubles" through the 1998 Good Friday Agreement. This is most strongly recognised by the maze's two distinct halves, which must be crossed in order to escape the maze. In the centre lies the Peace Bell, which visitors ring to indicate they have solved the puzzle.
There is no specific monument denoting who planted which tree or where. The yew was specifically chosen for its connotations of peace, remembrance and natural longevity; the physical maze and its message of peace will outlast those who planted it and exist for future generations.
The maze cost roughly £570,000 to build, 75% of which was funded by the European Union.
The average completion time is 40 minutes, and the ringing of the centre bell is encouraged upon finishing.
Further reading
Links to external websites are not maintained by Bite Sized Britain. They are provided to give users access to additional information. Bite Sized Britain is not responsible for the content of these external websites.