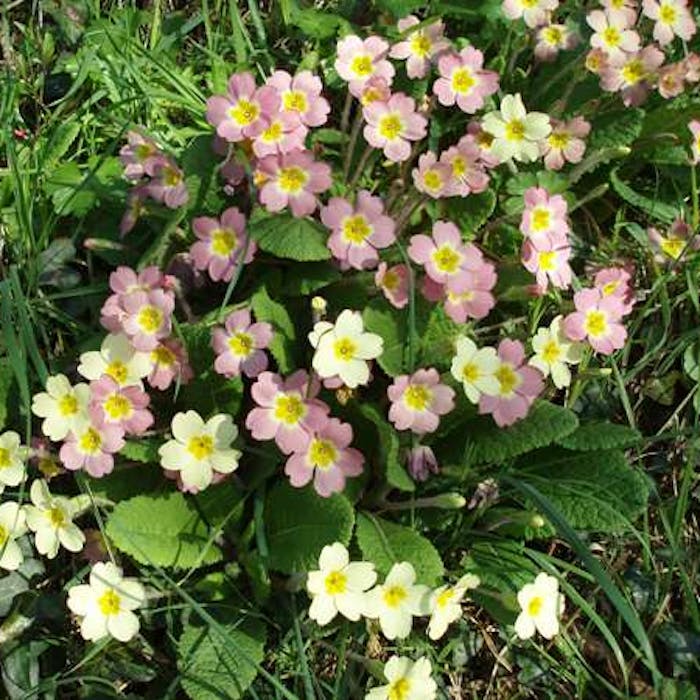 Primrose - a sign of Spring flourishing
The Primrose (Primula Vulgaris) is a native plant in Britain, and its pale yellow flowers can be a common sight across the UK. The name derives from the Latin 'prima rosa' ('first rose of the year'), and so they are a sure sign that spring is on its way.
The primrose's preferred habitat is woodland and grassland - such as wooded clearings, hedge banks and open grassland. In large populations there can be a variation in the size, texture and colour of primrose flowers. Native species can produce flowers in shades that range from pale cream to deep yellow. There is even a variety that takes a pink form.
The flower is pale yellow with green-veined flowers that measure 3cm across, borne singly on stalks. A rosette of wrinkled leaves taper up to each stalk, up to 15cm long. In different counties, it is referred to as butter rose, early rose, Easter rose, golden rose and Lent rose.
The primrose is associated in particular with Devon. Whilst in other counties the flower tends to be prominent in shaded areas, it is out in the open here. It can be seen along Devon banks, along hedgerows and in graveyards and gardens. Some open meadows are abundant with primroses there during Spring. It was voted the county flower in 2002, in a poll conducted by conservation charity Plantlife.
Britain even has its own 'Primrose Day' on April 19th. This marks the anniversary of the death of former Prime Minister Benjamin Disraeli, because the primrose was his favourite flower. It is believed that Queen Victoria sent him regular bunches. To this day, primroses are laid at his statue by Westminster Abbey every year.
Primroses also appear as a charge in heraldry, for example the coat of arms of the Earl of Rosebery.
Further reading
Links to external websites are not maintained by Bite Sized Britain. They are provided to give users access to additional information. Bite Sized Britain is not responsible for the content of these external websites.