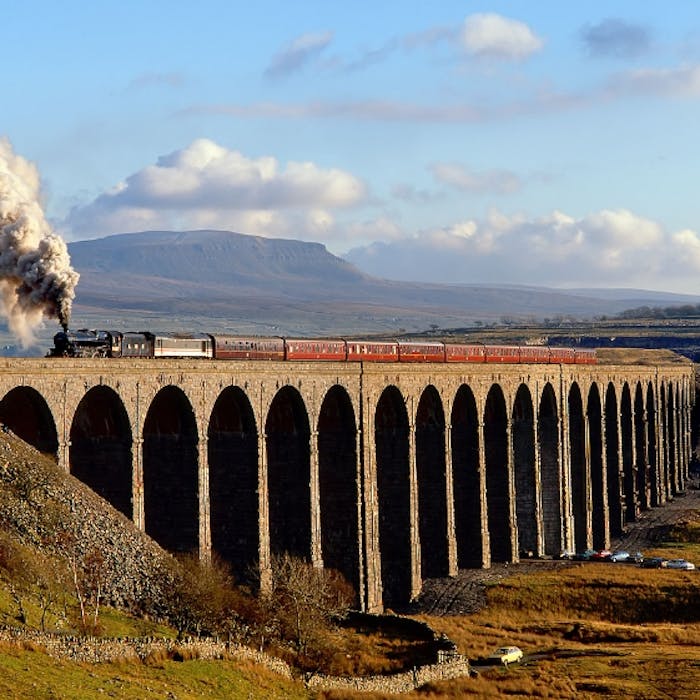 Ribblehead Viaduct - a Yorkshire engineering feat
The Ribblehead Viaduct carries the Settle–Carlisle railway across Batty Moss in Ribble Valley, Yorkshire. Completed in 1874, the 400 metre-long viaduct was built to tackle the route's challenging terrain.
The structure is Grade II* Listed, and the land beneath and around the viaduct is a scheduled ancient monument on this scenic and spectacular line through remote country. It was designed by the chief engineer of Midland Railway, John Sydney Crossley.
Construction began in late 1869. Its workforce consisted of up to 2300 men, and most lived in shanty towns - nicknamed Batty Wife Hole, Sebastopol and Belgravia. Over a hundred workers died during the build; from construction-related accidents, fighting, or from smallpox outbreaks. Nearby Chapel-le-Dale has a memorial to the workers.
The Settle–Carlisle Railway line was the last main railway in Britain to be constructed primarily with manual labour. A single track was laid over the viaduct in August 1874, and the following month, the first passenger-carrying train was hauled across. It opened for freight traffic in 1875, and the entire line opened for passenger services in 1876.
The 32 metre-high viaduct is the longest structure on the Settle–Carlisle Railway, though it has two taller viaducts, Smardale Viaduct at 40 metres near Crosby Garrett, and Arten Gill at 36 metres.
Though the line escaped the Beeching cuts of the 1960's, by 1980, the viaduct was in disrepair and many of its piers had been weakened by water ingress. British Rail proposed closing the line, due to the high cost of repairs to its major structures. However, campaign group Friends of the Settle-Carlisle Line generated public support to save it. Ribblehead Viaduct has since undergone major restoration, parts of which are continuing.
The building of the viaduct formed the basis of ITV drama Jericho, which concentrates on one of the last great Victorian railway construction projects.
Further reading
Links to external websites are not maintained by Bite Sized Britain. They are provided to give users access to additional information. Bite Sized Britain is not responsible for the content of these external websites.