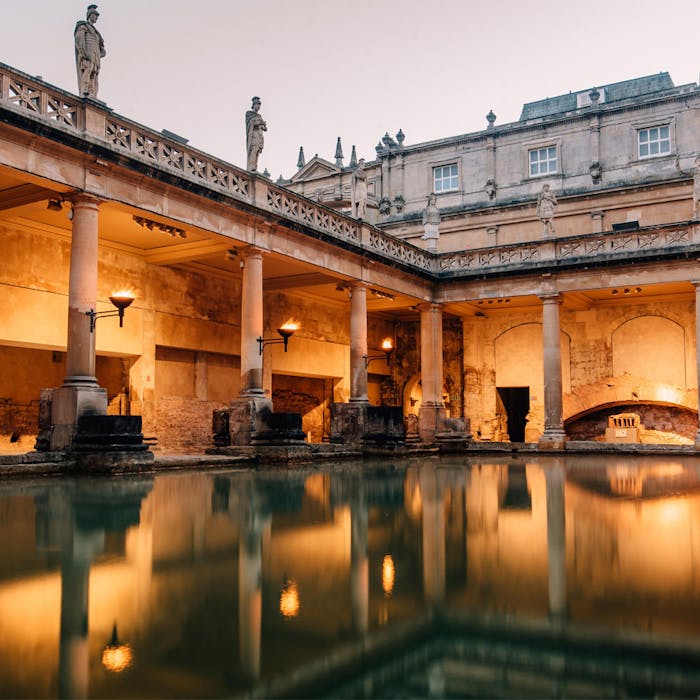 The Roman Baths, Bath - an early hotspot for Italian visitors
The Romans built an extensive bathing complex fed by hot springs in what later became the city of Bath in Somerset. The Roman Baths are open to the public, and there is a lot to see here as this is one of the finest historic sites in Northern Europe.
There are not many hot springs in Britain, and no doubt the Romans were delighted to find one near the Mendip Hills in Somerset. It seems to have been a centre of worship for the Celts, and the Romans built their own temple here in 60–70 AD, soon after their invasion of Britain. The bathing complex was gradually built up over the next 300 years.
In 1979/1980, around 130 "curse" tablets were discovered in an excavation of the "Sacred Spring" under the King's Bath. These small metal sheets have messages inscribed on them - usually asking the local goddess Sulis Minerva to intervene and punish a wrong-doer. It was discovered that nearly every tablet was from bathers cursing other bathers who had stolen their clothes or other belongings whilst attending the baths!
After the Roman withdrawal from Britain in the 5th century, the baths fell into disrepair. Later they were modified in the medieval and Tudor eras.
In the late 18th-century the springs attracted attention due to their supposed curative properties, and the city of Bath's glory days as a spa resort began in earnest.
The Roman Baths are now a major international tourist attraction, and together with the Grand Pump Room, receive more than 1.3 million visitors annually. Visitors can tour the baths and museum but cannot enter the water. The modern Thermae Bath Spa complex nearby is fed by the same hot spring and offers the opportunity to do this.
Further reading
Links to external websites are not maintained by Bite Sized Britain. They are provided to give users access to additional information. Bite Sized Britain is not responsible for the content of these external websites.