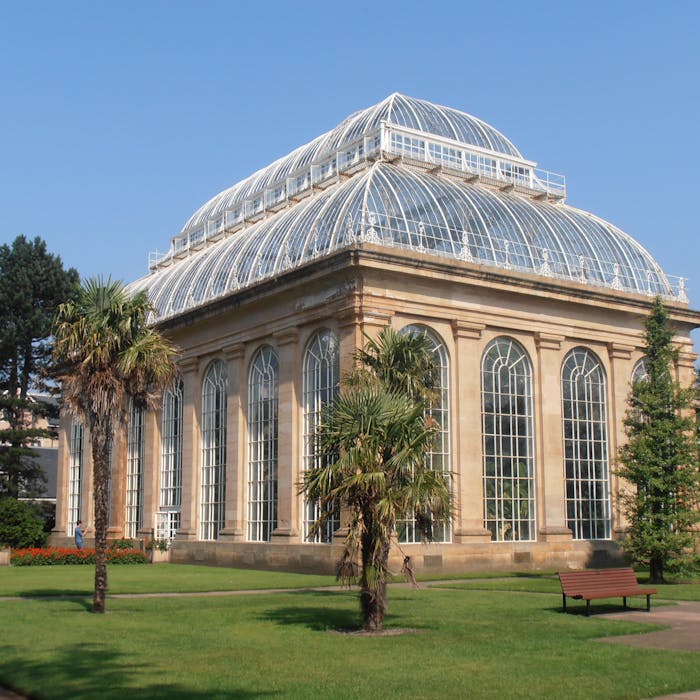 The Royal Botanic Garden, Edinburgh - much older than Kew
Founded in 1670, the Royal Botanic Garden in Edinburgh was the second such institution to be established in the UK, after Oxford's, which was created in 1621, and well before the Royal Botanic Gardens at Kew, which date from 1759. Just a mile from the city centre, it is one of Edinburgh's historic gems.
The Gardens are over 72 acres in size, with interconnected greenhouses and a park-like landscape including a rock garden; a Chinese hillside dotted with pagodas; a Scottish heath garden; allotments; and ponds and waterfalls. One of the glasshouses is home to the famous 'New Reekie' - a huge Amorphophallus Titanum, also known as the 'corpse flower', which produces an unpleasantly pungent flower every two years. Comprising over 13,500 plant species, RBGE's collection includes many plants that are endangered or extinct in their native habitats. The Temperate Palm House, which remains the tallest in Scotland, was built in 1858.
The Edinburgh botanic garden was founded in 1670 at St. Anne's Yard, near Holyrood Palace, by Dr. Robert Sibbald and Dr. Andrew Balfour. The plant collection used as the basis of the garden was the private collection of Sir Patrick Murray, 2nd Lord Elibank, moved from his home at Livingston Peel following his death in 1671. The original collection was made up of eight or nine hundred plants, primarily acting as a "physic garden" for the purpose of growing medicinal plants.
This original site proved too small, and it moved twice subsequently, before taking over the current site at Inverleith in the early 1820's. In 1877, the city acquired Inverleith House and added it to the existing gardens, opening the remodelled grounds to the public in 1881. A cottage from the garden's original site was moved brick by brick to a site within the current gardens in 2008.
The viewpoint at the highest point of the Garden rewards visitors with views over the Rock Garden and of Edinburgh's spectacular skyline, a stunning backdrop to the collection of over 5,000 plants from the world's mountains, as well as Arctic and dry rocky Mediterranean habitats.
Entry to the gardens is free, and visitors will need plenty of time to do them justice.
Further reading
Links to external websites are not maintained by Bite Sized Britain. They are provided to give users access to additional information. Bite Sized Britain is not responsible for the content of these external websites.