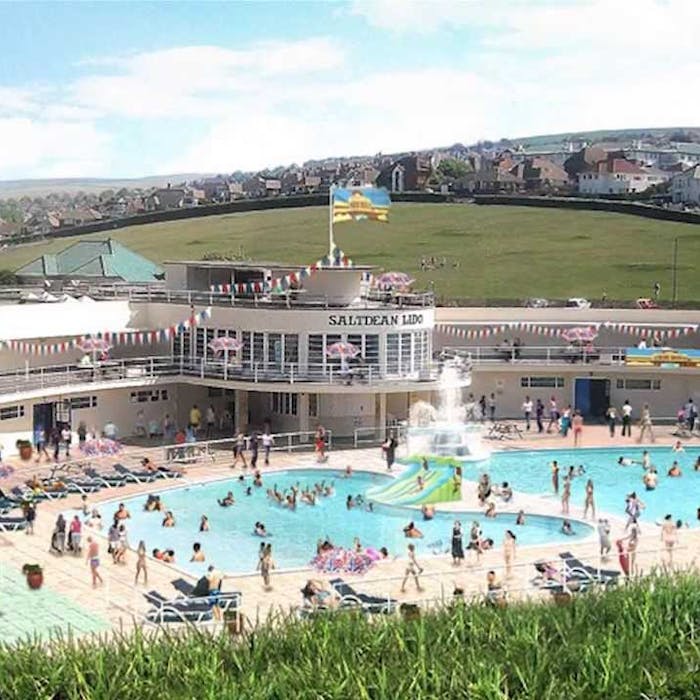 The Saltdean Lido - back with a splash!
Described by Historic England as one of the seven wonders of the English seaside, Saltdean Lido just along the coast from Brighton is the only Grade II* listed lido in the UK, and is renowned for its fantastic Art Deco architecture. It was threatened with redevelopment in 2010 until a local campaign was set up to save and restore it.
Brighton's residential suburb Saltdean was founded by Charles William Neville, who had decided in the 1920s to create a desirable place to live, as well as an attractive holiday resort, along the coast between Brighton and Newhaven. By the 1930s, with his acute business sense and flair for publicity, Neville had established Saltdean as a fashionable resort town to which tourists flocked.
The interwar years were a time of great interest in sunshine, exercise and healthy outdoor activity, and Neville commissioned architect R.W.H. Jones to design a new luxury hotel, named 'The Ocean Hotel', with a lido swimming pool fit to rival any continental resort - or ocean liner. The lido was completed first, and opened in May 1938. The admission fee was sixpence.
Neville's timing was again superb, as 1938 was the year that the the Paid Bank Holiday Act was introduced - allowing many British workers to take their families on trips for the first time. After spending a day bathing in its crescent-shaped pool, visitors could enjoy the glass rotunda restaurant and sea-facing tea decks, and even dance to the latest hits of the day in its ballroom overlooking the pool!
The Lido's heyday was brief, however, as the Second World War forced its closure, and the accompanying hotel was never built. After decades of neglect, the pool was revamped in the 1960s by the local authority as a municipal leisure facility. This second period of success lasted for 30 years, until spending cuts again forced its closure.
After plans were announced in 2009 to fill in the swimming pool, and redevelop the site to create 102 apartments, the Save Saltdean Lido Campaign was set up by local residents to resist this scheme, leading to a Community Interest Company being created in 2012, with the core objective to safeguard and restore Saltdean Lido, and in December 2013 the council announced that it had won a tender to take on a 63-year lease of the site. 
The pool itself re-opened in May 2017. In its first season, it attracted over 40,000 visitors. Renovation of the Lido's other attractions continues.
Further reading
Links to external websites are not maintained by Bite Sized Britain. They are provided to give users access to additional information. Bite Sized Britain is not responsible for the content of these external websites.