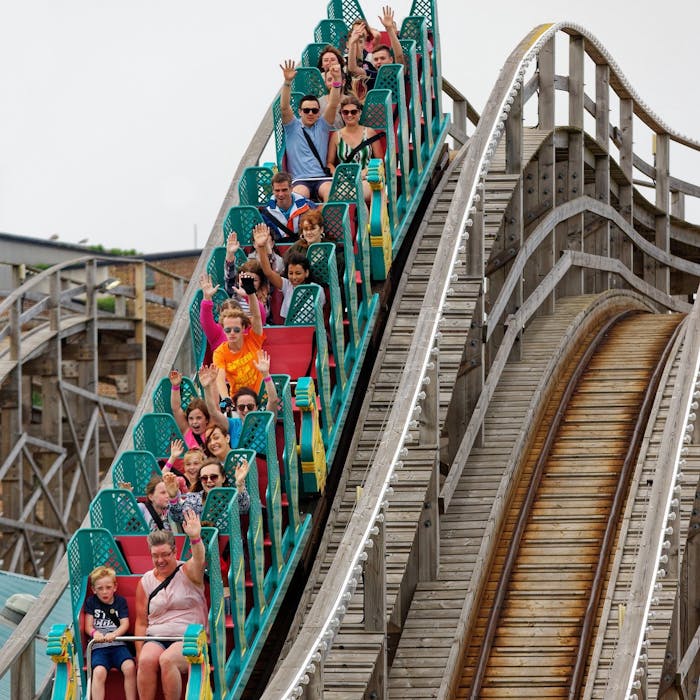 Still rolling - Margate's vintage Scenic Railway
The Scenic Railway is a vintage wooden roller coaster still running at the Dreamland Amusement Park in Margate. First opened in 1920, it is the oldest roller coaster in the UK, and one of only eight scenic railways in the world. It has been awarded Grade II* listed status.
The scenic railway design was patented in 1884 by LaMarcus Adna Thompson. In 1919, John Henry Iles (a co-owner of Dreamland) bought the European usage rights, and the Dreamland scenic railway was constructed. It drew on ideas from several designers, and was built by local carpenters. It used local timber, and some mechanical parts imported from America.
The ride contains a wooden-tracked railway with steel rails, supported by a wooden structure. The layout consists of a double-loop with two cable-lift hill sections with double-drops.
Part of the ride was destroyed by fire in 1949, necessitating major repairs. Replacement timber came from the dismantled Lowestoft Pier. The ride re-opened in 1950, although another fire struck in 1957.
A former Margate train was involved in the Battersea Big Dipper disaster of 1972 after some of the Dreamland trains had been sold to Battersea Fun Fair. This accident resulted in 5 children dying, and several more being injured. Public confidence in wooden rollercoasters diminished after this.
Due to financial problems, Dreamland in Margate closed to the public in 2003, but reopened in 2006. In April 2008 an arson attack destroyed a significant portion of the ride. With the future of the whole venue in doubt, plans were drawn up to turn it into a retro-themed seaside attraction, focusing on its traditional rides. A grant from the Department for Culture, Media and Sport helped restore the scenic railway, and after another setback when high winds knocked the wooden structure down in 2014, the new Dreamland opened to the public once again in 2015, as a 'Vintage Theme Park Extravaganza'.
The scenic railway was granted Grade II listed status in 2002, making it the first roller coaster to be given such protection. The listing was upgraded to Grade II* in 2011, despite the fire damage, due to the ride's rarity, and its significance as one of the oldest roller coasters in the world.
Further reading
Links to external websites are not maintained by Bite Sized Britain. They are provided to give users access to additional information. Bite Sized Britain is not responsible for the content of these external websites.