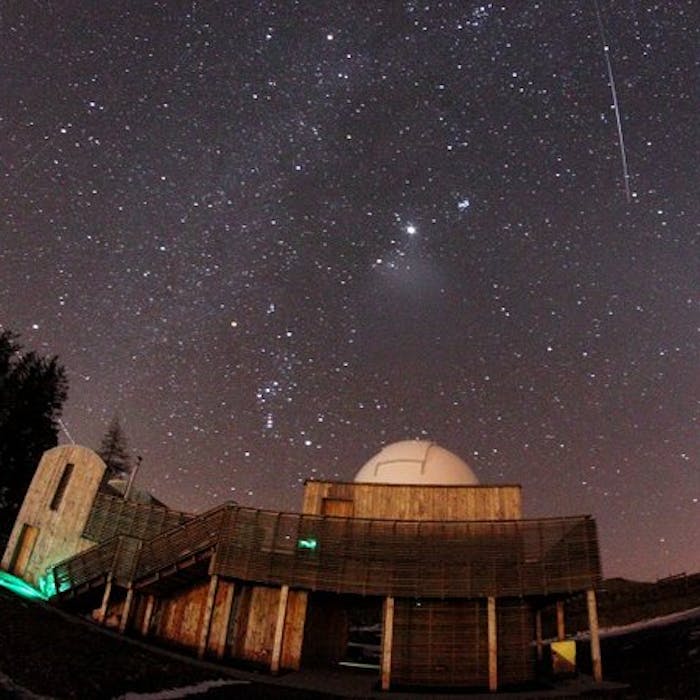 Night sky delights in darkest Galloway
Light pollution has meant that the beauty of the night sky has been lost in many built up areas of Britain. But in 12 Dark Sky Places - Parks and Reserves - it's possible to experience truly dark skies - and see far-off stars and galaxies, just as our ancestors did.
The Galloway Forest Dark Sky Park was the first such place to be designated.
The Scottish Dark Sky Observatory occupies a hilltop site on the edge of the Galloway Forest Dark Sky Park in south-west Scotland, just north of England's Lake District. It gained the coveted Dark Sky Status in 2009. Here, visitors can enjoy some of the darkest skies in the UK and observe the stars through two large telescopes.
Galloway Forest Park is the UK's largest forest park at 78,000 hectares. The remoteness and sparse population of the area combined with its lighting management plan ensure its skies will remain unpolluted for future generations.
Built in 2012, the Observatory's aim is to let people really appreciate the night sky, and better learn about astronomy and the celestial world.
The observatory features two telescopes that allow for detailed views of the Moon, planets, and stars, and even the more faint and distant objects in the universe. Visitors may even get to see the Northern Lights. A planetarium facilitating views on cloudier nights, was constructed in 2017.
Elsewhere in the UK, International Dark Sky Park or Reserve status has been awarded to 11 other locations in National Parks, Areas of Outstanding Natural Beauty and other suitably placed areas. These are Exmoor; Brecon Beacons; Moore's Reserve in the South Downs; Snowdonia; North York Moors; Yorkshire Dales; Northumberland National Park; Kielder Water & Forest Park; Tomintoul and Glenlivet in the Cairngorms National Park; and Cranborne Chase..
Further reading
Links to external websites are not maintained by Bite Sized Britain. They are provided to give users access to additional information. Bite Sized Britain is not responsible for the content of these external websites.