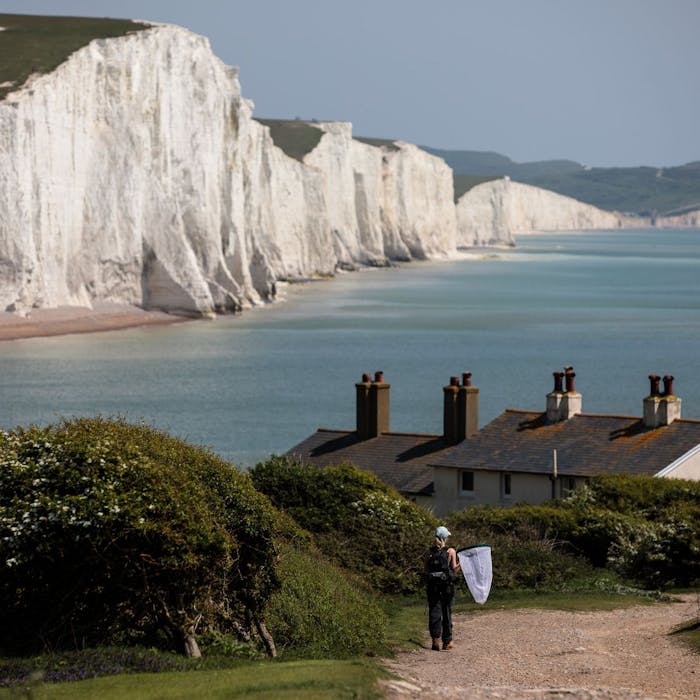 The Seven Sisters - Sussex stars of a thousand postcards
Situated in the South Downs National Park, where the South Downs meet the English Channel, the Seven Sisters are a very pleasing rolling chalk cliff formation where the seven hillcrests have earned their affectionate nickname.
They lie adjacent to the Birling Gap on the South Downs Way in Sussex, and near the point where the river Cuckmere enters the sea at Cuckmere Haven.
The Seven Sisters Country Park is made up of 280 hectares of chalk cliffs, meandering river valley and open chalk grassland. It is a popular place for a number of outdoor activities including walking, bird watching, cycling, canoeing and paddle boarding. There is a visitors' centre and cafe.
The view of the Seven Sisters from the west looking east across some former coastguard cottages has become something of a national icon - although until now, at risk of disappearing due to coastal erosion. After campaigning by a local group called Cuckmere Haven SOS, permission was given at the beginning of 2021 to replace the seawall and prevent the cottages from collapsing into the sea.
The cottages were built around 1820 in response to smuggling activity, along with a cable hut, one of the few remaining from those which once lined the coast to take messages from London to France. They have been under threat for decades, and the previous seawall built 80 years ago by Canadian soldiers, after the cottages were used to billet troops, has now largely collapsed.
The new sea defences will cost around £1 million, paid for by money raised through the SOS, including from celebrities who love the location, which has been featured in countless films, TV programmes, photographs and stamps - including Atonement and Harry Potter and the Goblet of Fire and Blithe Spirit.
There were, however, objections from environmentalists including Natural England and Friends of the Earth, concerned that a new seawall will increase erosion further along the coast and damage the fragile marine chalk habitat of the foreshore, and favouring the policy of 'managed coastal retreat', pursued since 2011.
Further reading
Links to external websites are not maintained by Bite Sized Britain. They are provided to give users access to additional information. Bite Sized Britain is not responsible for the content of these external websites.