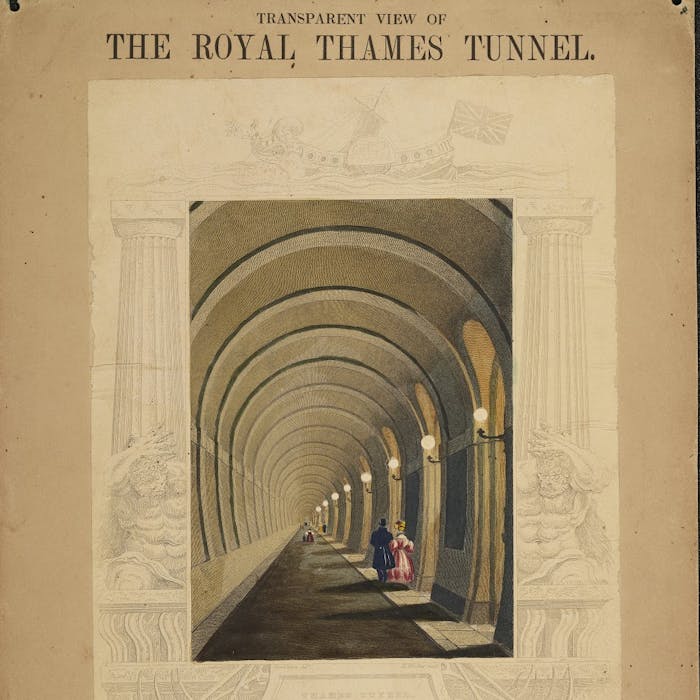 The first Thames Tunnel - an engineering triumph
The pioneering Thames Tunnel connects Rotherithe and Wapping, underneath the River Thames in London. Built between 1825 and 1843 by father & son engineers Marc and Isambard Kingdom Brunel, it is the first tunnel known to have been successfully installed beneath a navigable river.
The need for a tunnel emerged in the early nineteenth century to provide a connection between the rapidly expanding docks on each side of the Thames. A project called Thames Archway was commissioned to build the tunnel from 1805-1809, but failed. Flooding of this initial attempt led to the concept being deemed 'impracticable'.
Marc Brunel refused to accept this, and focused his energies on finding a solution. In 1818, he patented the concept of a tunnelling shield - a ground-breaking moment in tunnelling technology. The shield was designed to operate as a temporary safety structure for the tunnelling workers, until the tunnel could be provided with a permanent protective support structure.
In 1823, Brunel produced a plan for the Rotherithe/Wapping tunnel, deploying this system. He sought financing from private investors (including the Duke of Wellington), and the Thames Tunnel Company was formed in 1824. The construction was delayed, dogged by two floods and financial difficulties (going vastly over-budget), and was abandoned for seven years in 1828.
But work was resumed and when it was finally opened to the public in 1843 as 'The Royal Thames Tunnel' (after being visited by Queen Victoria and Prince Albert), it became a major tourist attraction, and was deemed a triumph of civil engineering. It was purchased by the East London Railway Company in 1865, and has since been in use as part of the London Underground on the East London Line between Wapping and Rotherithe.
Further reading
Links to external websites are not maintained by Bite Sized Britain. They are provided to give users access to additional information. Bite Sized Britain is not responsible for the content of these external websites.