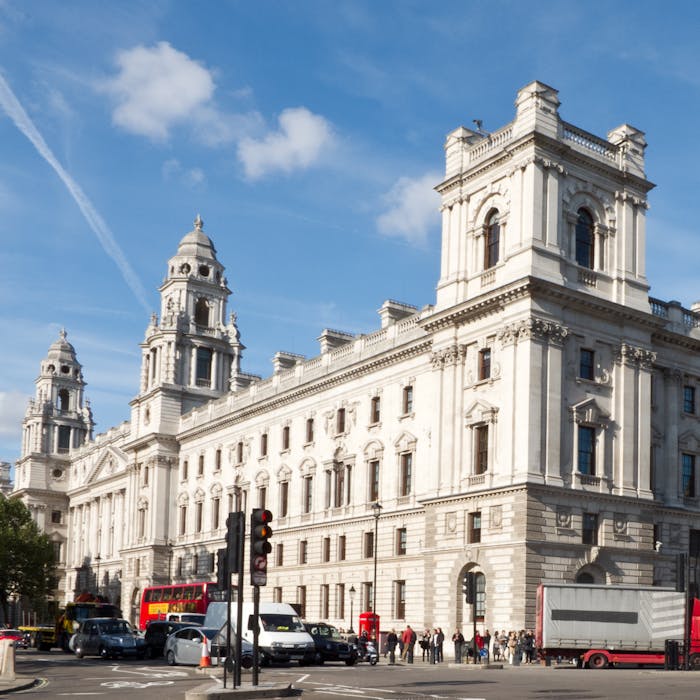 The Treasury Building in London
The Treasury Building near Downing Street is officially called Government Offices Great George Street (GOGGS). It is a large and monumentally impressive UK government office building situated in Westminster between Horse Guards Road, Great George Street, Parliament Street, King Charles Street and Parliament Square.
The building was designed by John Brydon following a competition in 1898. Construction took place in two phases: the East end was completed in 1908 and the West end was completed in 1917. It was originally built as offices for the Board of Education, the Local Government Board and the local Ministry of Works Office; HM Treasury moved into the building in 1940.
The building has eight floors, three of them underground, several turrets and three inner courtyards - two square and one circular. Before its 21st century refurbishment, the interior remained an Edwardian labyrinth, with a canteen, snack bars, tea ladies, dusty document stores, bathrooms, bedrooms, and wood-panelled offices for politicians.
The building has three sub-ground levels: a lower ground floor, basement and sub-basement. The sub-basement contains some of the more peculiar elements of the building. There is a constant flow of water and in one place a channel has been dug and the water flows through the concrete like a river.
A major refurbishment of the building was procured under a Private Finance Initiative contract in 2000. The works, which were designed by Foster and Partners and carried out by Bovis Lend Lease at a cost of £140 million, were completed in 2002. The refurbishment of 1 Horse Guards Road added floor space which allowed the entire Treasury staff to be housed in the same building for the first time for some 50 years, and created a much lighter working environment, with open place office space.
Part of the basement houses the Churchill War Rooms, a branch of theImperial War Museum.
Further reading
Links to external websites are not maintained by Bite Sized Britain. They are provided to give users access to additional information. Bite Sized Britain is not responsible for the content of these external websites.