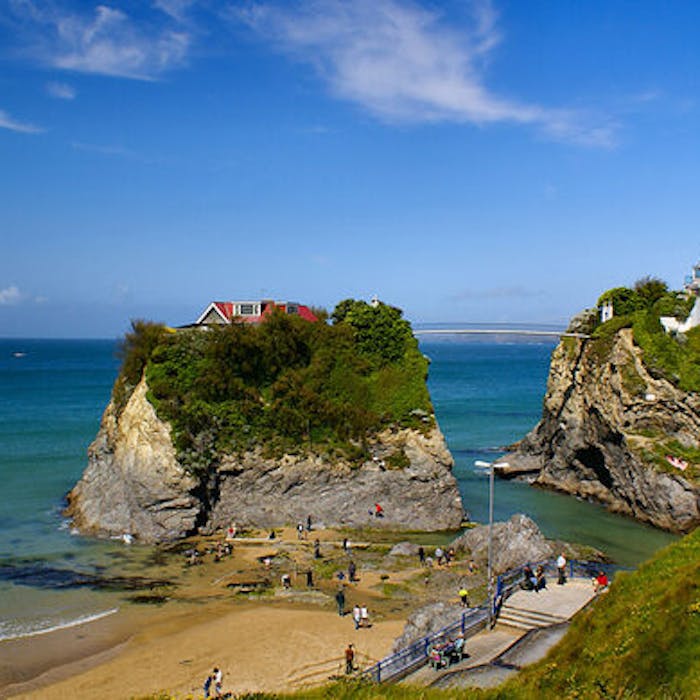 The Island, Newquay - an unusual house on a seaside crag
The ultimate beach house sits perched on a 70-foot high rocky outcropping on the beach at Newquay, Cornwall. Cut off by water when the tide is in, the house is joined to the mainland by a tiny private suspension bridge.
Towan Island, usually known as "The Island", appears to be a genuine island when the tide is in, but one can walk right up to it when the tide is out. The bridge was built in 1900 and is a suspension footbridge with a gentle bounce as you walk across. Though it wasn't designed with those suffering from acrophobia in mind, it is regularly inspected and very safe.
There's only one house on this tiny island, which can be rented as up-market self-catering accommodation. Surrounded by a beautiful garden which itself is surrounded either by the sands of Towan Beach or by the sea - depending on the time of day - the island is accessible only on foot via the suspension bridge.
Prior to 1900 the island was used to keep chickens and later used for religious services. The top of the island being reached by a pathway cut into the rock. The suspension bridge connecting the island to the mainland wasn't constructed in 1902.
In 1910 a wealthy Canadian built the house on the island, over the next 90 years the property only changed hands a few times. Then in 2001, the house was snapped up for £500,000 by Lord and Lady Long.
However, the slippy rock steps, suspension bridge, and Newquay's party culture which would see drunken revellers on the beach below at all times of night began to wear on the Long's.
Lord and Lady Long sent a letter to the council threatening to sue if an end wasn't put to the noise. Bonfires on the beach were made illegal and excessive numbers were banned from congregating there at night.
Even so, after 11 years of ownership, the Long's sold the property to Unique Home Stays, and it is now a holiday rental.
In a strange claim to fame, the house was once the residence of Sir Oliver Joseph Lodge, the inventor of the spark plug, who is rumoured to have entertained his friend Sir Arthur Conan-Doyle here, with whom he shared an interest in spiritualism. 
Further reading
Links to external websites are not maintained by Bite Sized Britain. They are provided to give users access to additional information. Bite Sized Britain is not responsible for the content of these external websites.