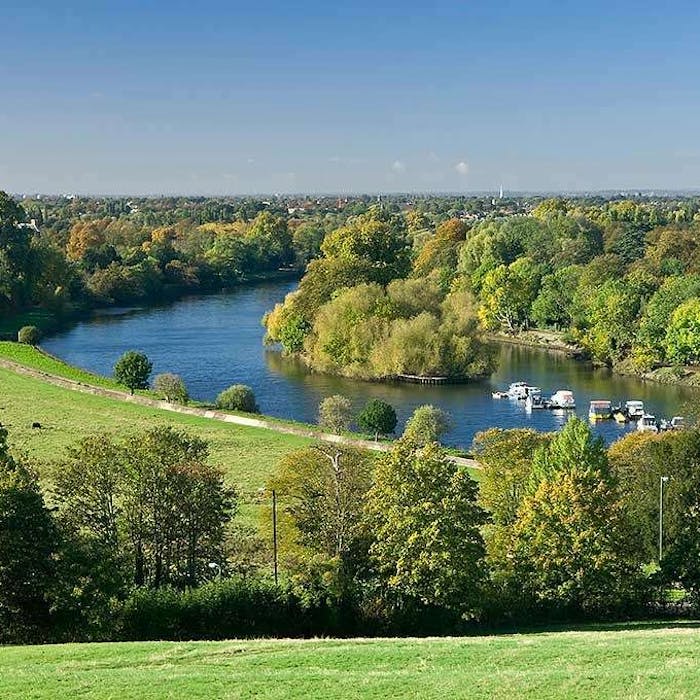 The View from Richmond Hill - its beauty protected by Parliament
The view from Richmond Hill in west London is the only view in England to be protected by an Act of Parliament. Since the late 17th century, artists have been attracted by the panoramic prospect of the meandering River Thames, verdant woods and meadows offered by this elevated position.
The Richmond, Ham and Petersham Open Spaces Act was passed in 1902—to protect the land on and below Richmond Hill and thus preserve the fine views to the west and south. Two years before, the wooded isle centrepiece of the view, Glover's Island, was bought by a local resident and given to the local council in return for the latter noting against its records that it and its successors would not develop the isle.
In 1901 the view was threatened by suburban development. Marble Hill, on the other side of the river, was to become the centre of a housing estate and the builders began to lay out the sewers and roads. They were stopped by a local opposition campaign, backed by many artists, who were determined to save the heart of the view from Richmond Hill. In 1902 the protective Act of Parliament was passed, and Marble Hill was opened as a public park the following year.
Further reading
Links to external websites are not maintained by Bite Sized Britain. They are provided to give users access to additional information. Bite Sized Britain is not responsible for the content of these external websites.