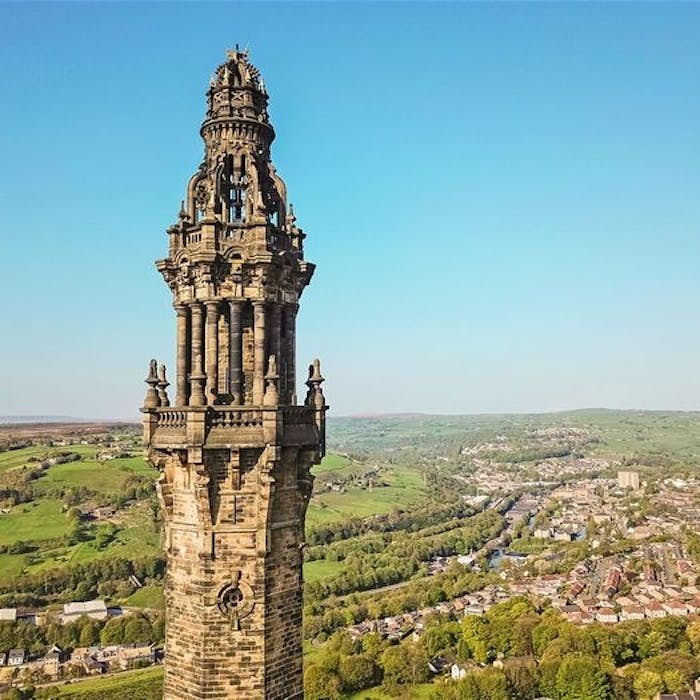 The Wainhouse Tower - designed to annoy the neighbours
The Wainhouse Tower in Halifax is the tallest folly in the world, but was originally designed as a factory chimney. However, its secondary function was to annoy the owner's nextdoor neighbour ...
The Wainhouse Tower was originally commissioned as a chimney for the local dye works by John Edward Wainhouse in the late 19th century. The structure was never actually used as a working chimney and as such, is regarded by many as one of Britain's finest follies. At over 250 feet, it is the tallest structure in Calderdale and the tallest folly in the world, and was erected in the four years between 1871 and 1875.
The main shaft is octagonal in shape and it has a square base and 369 steps leading to the first of two viewing platforms which is open to the public, and a total of 405 to the top viewing platform which is usually closed to the public. The tower is open to the public during bank holidays, and is a Grade II* listed building.
The height of the chimney was to satisfy the Smoke Abatement Act of 1870 which required a tall chimney to carry smoke out of the valleys in which the factories were built. A much simpler chimney would have satisfied the requirements but Wainhouse insisted that it should be an object of beauty. He was also apparently motivated by a neighbour who owned the land next to his. This man boasted of his privacy, so Wainhouse incorporated viewing platforms into his chimney to annoy him.
Two years into the building of the tower, the architect left the project - unable to cope with the feud with the neighbour. A new architect came on board and the project was completed in 1875.
However, by the time the building was completed, it was clear that it would never be used as a chimney.
The dyeworks had been sold in 1874 to the works manager Mr Henry Mossman. The sale did not include the Tower. It is thought that Mossman saw the then uncompleted building to be a liability. This point of view is difficult to understand given the fact that Mossman was then prosecuted under the Smoke Abatement Act.
Mossman had to pull down six existing small chimneys …and erect a large chimney in their place.
The Tower and three acres of surrounding land was sold by auction in 1887. The Tower changed hands several times until coming under the ownership of the Halifax Corporation in 1919. During the Second World War the Tower was used by the military authorities as an observation post.
As a result of the reorganisation of Local Government in 1974, Wainhouse Tower became the property of Calderdale Council.
Further reading
Links to external websites are not maintained by Bite Sized Britain. They are provided to give users access to additional information. Bite Sized Britain is not responsible for the content of these external websites.