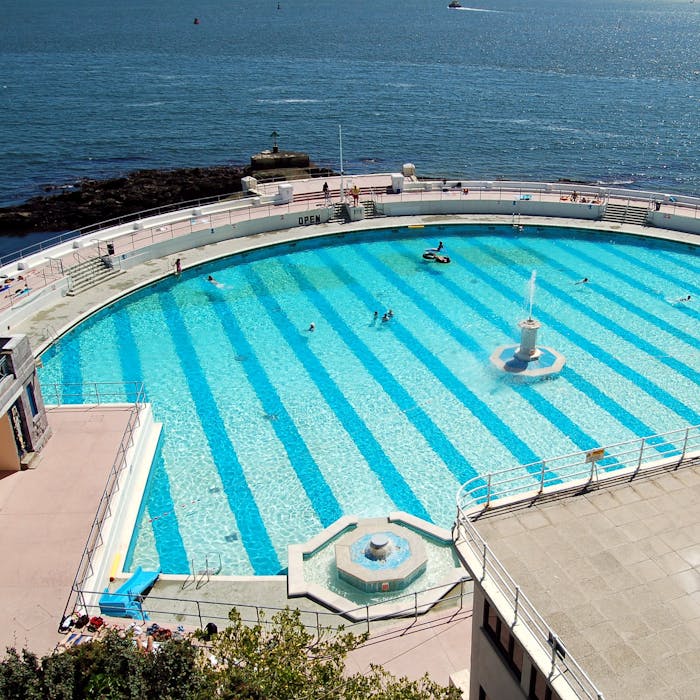 Tinside Lido, Plymouth - a bathing pool at the seaside
Plymouth's Tinside Lido in Devon is a stunning semi-circular saltwater bathing pool, built in 1935 in a classic art deco style. It is 50 metres in diameter, has three fountains for bathers to play in, and commands a spectacular vantagepoint, alongside Plymouth Hoe.
The lido was designed by Plymouth's borough engineer John Wibberley, and opened on 2nd October 1935. It began life as the Ladies' Bathing Place, with an entry price of one penny.
Fresh saltwater was pumped in through three cascades. People flocked to the lido during the war for recreation, and in one night, more than 3,000 people came, exhausted from clearing the rubble that German bombing on the city had produced, bathed in the pool.
Throughout the 1950s and early 1960s the lido remained extremely popular, but with sun seekers choosing foreign holidays over domestic ones. Its popularity declined in the 1970s and 1980s.
The lido eventually closed in 1992, but a vociferous local campaign that followed led to its renovation, at a cost of £3.4 million, and it re-opened to the public in 2005.
It now offers a beautifully restored semi-circular sea water pool retaining lots of original Art Deco features, including a fountain at its centre, and direct views onto the sea. Shipping enthusiasts can watch vessels coming in and out of nearby Plymouth harbour whilst enjoying the pool or the sun deck. Open-air cinema nights are also occasionally held. The lido is open during the summer months..
Further reading
Links to external websites are not maintained by Bite Sized Britain. They are provided to give users access to additional information. Bite Sized Britain is not responsible for the content of these external websites.