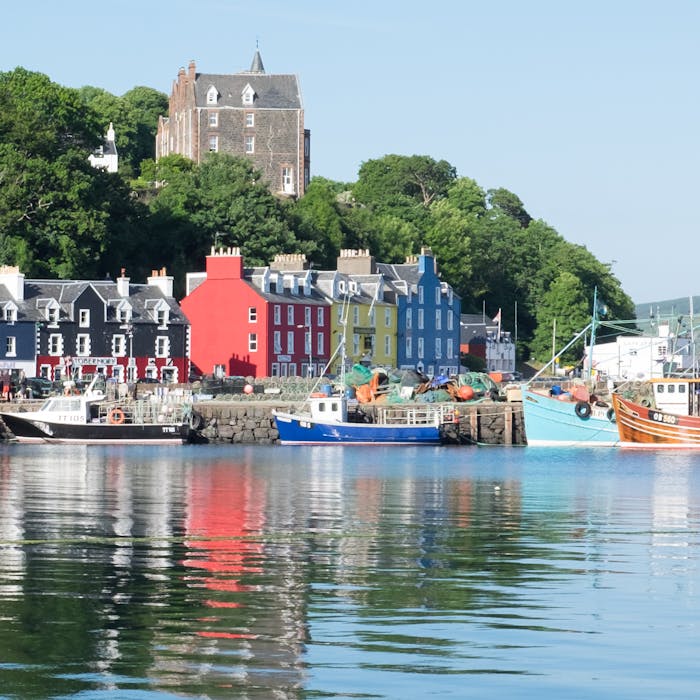 Tobermory
Tobermory, on the Isle of Mull, Scotland is a picture-postcard of a place with brightly painted buildings along the edge of the harbour, beneath high woodland-fringed hills surrounding the bay.
Tobermory was built as a fishing port in 1788; its layout was based on the designs of Dumfriesshire engineer Thomas Telford. It has a current population of about 1,000. and is now the main town on Mull.
The town has a good variety of shops, hotels, and other accommodation as well as being the administrative centre for the island. The harbour is always busy with fishing boats, yachts and the ferry to and from Kilchoan.  In recent years, the island has become very popular for weddings in a romantic atmosphere.
There is reputed to be the wreck of a Spanish galleon somewhere in the mud at the bottom of the bay. The ship was part of the defeated Armada of 1588 and was fleeing the English fleet when she anchored in Tobermory to take on provisions. Following a dispute over payment the ship caught fire which caused the gunpowder to explode. She was supposed to have been carrying millions of gold coins when she went to the bottom but no-one has ever managed to find any significant treasure.
More recently, Tobermory has been the setting for the children's programme Balamory. 
Further reading
Links to external websites are not maintained by Bite Sized Britain. They are provided to give users access to additional information. Bite Sized Britain is not responsible for the content of these external websites.