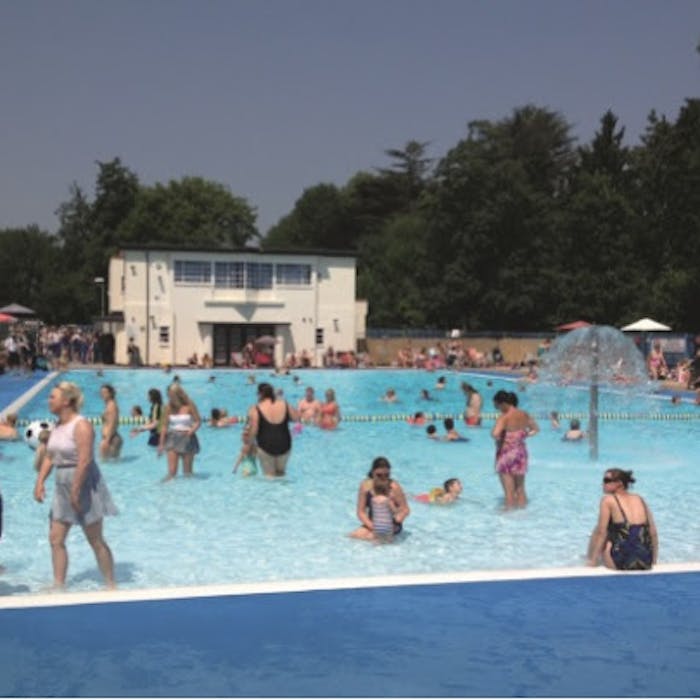 Tooting Bec Lido - one of London's cool pools
Tooting Bec Lido in South London is the largest open-air fresh water swimming pool in the UK at 100m by 33m, and one of the recently revived lidos in London, now extremely popular as escapes on a hot day, and for dedicated open-air swimmers.
Tooting Bec Lido is one of Britain's oldest open-air pools. It opened to the public on Saturday 28th July 1906 as the Tooting Bathing-Lake. Digging the lake had been proposed by the Reverend John Hendry Anderson, Rector of Tooting, as a project to provide work for unemployed local men. The Lido holds one million gallons of water, and was built in just four months.
Originally mixed bathing was not allowed, and women and girls were only permitted to swim there one morning a week. Mixed bathing was introduced in 1931, and then only at specified times. At the same time an "aerator", or fountain, was added to help pump the water round the pool and keep it clean. The main reason given for this act of modernisation was that more women would be swimming in the pool and higher standards of hygiene were appropriate.
A café, showers and toilets were also added at this time.
The South London Swimming Club, which was established within weeks of the Lido opening in 1906, continues to operate at the Lido and take great interest in its continued existence. The lido is unheated, and as a result, water temperature is rather bracing but that doesn't put off the local year-round local swimming club. The Club holds races on Sundays throughout the year, as well as on Christmas and New Year's Days. Many members swim 365 days a year, come sun, rain or snow. The Lido is only open to the general public during the summer season.
Tooting Bec Lido was nearly closed as a result of Wandsworth council's financial cutbacks in the early 1990s, which resulted in the closure of the borough's other lido at King George's Park. It is now run by a private leisure contractor.
Further reading
Links to external websites are not maintained by Bite Sized Britain. They are provided to give users access to additional information. Bite Sized Britain is not responsible for the content of these external websites.