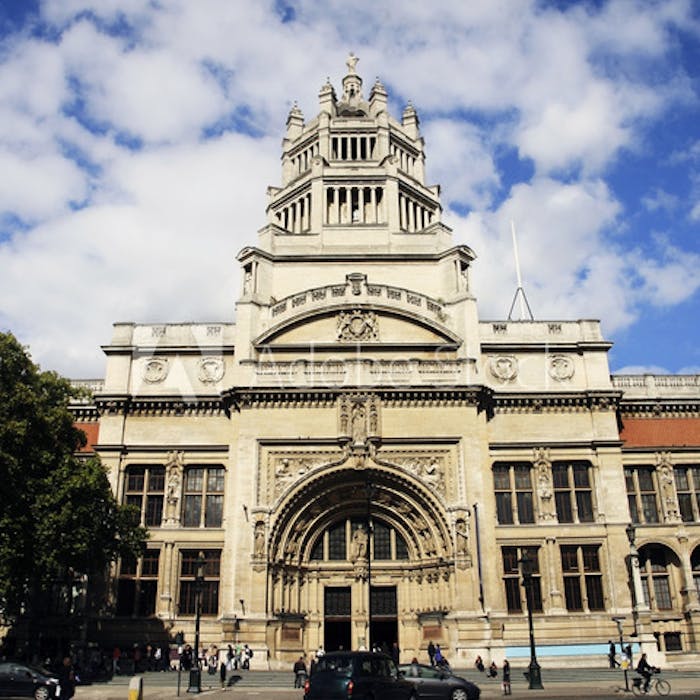 A palace of treasures - the Victoria & Albert Museum
The Victoria & Albert museum, situated in South Kensington, London, has pioneered the curation and presentation of arts, crafts and creative objects since its establishment in 1857. It is the world's largest museum of applied and decorative art and design, as well as sculpture, fashion and objects from popular culture. It houses a permanent collection of over 2.27 million items.
The museum has its origins in the Great Exhibition of 1851, with which Henry Cole, the museum's first director, was involved in planning. Initially the collection was known as the Museum of Manufactures, and occupied other buildings. The Exhibition Road site was previously occupied by Brompton Park House; which was extended in 1857 to become the core of today's Museum collection, but the biggest step forward was made in 1899, when the foundation stone was laid by Queen Victoria of today's state-of-the-art galleries.
Museum Director Sir Henry Cole, regarded it as 'a refuge for destitute collections'. More than a century later, the then Director Sir Roy Strong called it 'an extremely capacious handbag'. Cole intended that the museum attract the widest possible audience. He hoped that 'the evening opening of public museums may furnish a powerful antidote to the gin palace'.
The V&A was also the first museum in the world to provide a public restaurant. Visitors can still enjoy dining with a suitable exhibit around them in the form of the grandeur of gilded domes, ornate tiles, and ceramic wall reliefs. In fact, it comprises three separate refreshment rooms, named after their principal designers: James Gamble, Edward Poynter, and William Morris — whose original creations remain today.
The V&A buildings occupy 12.5 acres of land in South Kensington. Its collection spans 5,000 year of art from ancient times to the present day. The holdings of ceramics, glass, textiles, costumes, silver, ironwork, jewellery, furniture, medieval objects, sculpture, prints and printmaking, drawings and photographs are among the largest and most comprehensive in the world. Special exhibitions are regularly held, including 'blockbuster' celebrations of individual designers, subjects and periods.
Further reading
Links to external websites are not maintained by Bite Sized Britain. They are provided to give users access to additional information. Bite Sized Britain is not responsible for the content of these external websites.