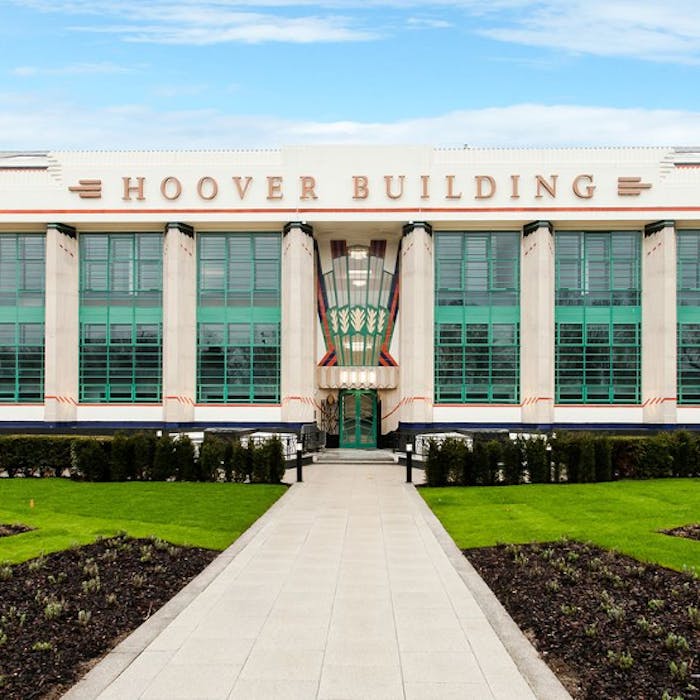 The Hoover Building - art deco industrial icon
The Hoover Building, located in Perivale, London, on the Western Avenue main road, was opened in 1933 as the UK headquarters, manufacturing plant and repairs centre for vacuum cleaner giant The Hoover Company. It is notable for its Art Deco architecture and is a Grade II listed building.
The building was designed by Wallis, Gilbert and Partners, the same architects who designed Victoria Coach Station in Central London in a similarly Art Deco style. Thomas Wallis spoke of the Art Deco design saying that 'A little money spent in the incorporation of some form of decoration, especially colour, is not a money waster. It has a psychological effect on the worker.'
The Hoover Company - an American business with worldwide operations - was thriving In the 1930s, and had 1600 workers employed at the UK site. Once the main building with its iconic frontage had been built, plans were drawn up for a manufacturing plant. As demand for Hoover vacuum cleaners increased in the mid-thirties, the factory was extended, increasing the space to 254,000 square feet. At the time the press referred to the building as a 'Modern Palace of Industry'. It was one of a number of such impressive industrial buildings in West London, on the newly constructed main highways that facilitated the supply and distribution of the materials they needed and products they made. Others included the Firestone Building, sadly demolished, and the Gillette Building.
The Hoover Building has appeared in popular culture many times. The musician Elvis Costello recorded the song Hoover Factory, which includes a brief description of the building:
'Five miles out of London on the Western Avenue
Must have been a wonder when it was brand new.'
The supermarket chain Tesco purchased the building in 1989 and repurposed it as retail space. In 2015, it was bought by IDM Properties and has now been converted into flats, with the Art Deco features as a major selling point.
Further reading
Links to external websites are not maintained by Bite Sized Britain. They are provided to give users access to additional information. Bite Sized Britain is not responsible for the content of these external websites.