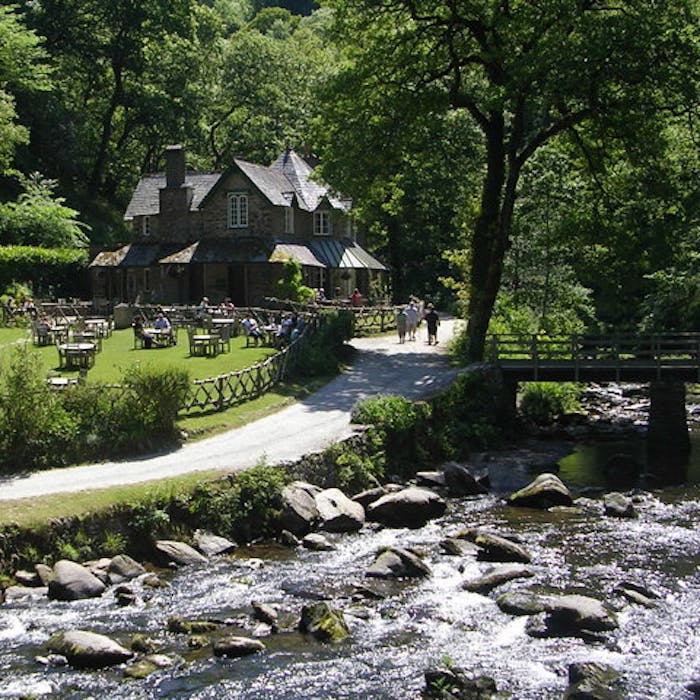 Watersmeet - a pretty spot for a cuppa on Exmoor
Watersmeet is the meeting place of the East Lyn river and Hoar Oak Water on Exmoor, Devon. Several walking routes converge here. And when you arrive, there is an attractive tea room to greet you!
The most popular walking route to Watersmeet is along the flat footpath from the seaside resort of Lynmouth, a village on the North Devon coast. This easy route takes the visitor from the harbour and the mouth of the river through a lush wooded valley, along the boulder-strewn East Lyn River.
At Watersmeet, the East Lyn River meets Hoar Oak Water, and there are several other footpaths further into Exmoor, including uphill, onto the moors and the coastal footpath. This spot is the starting-off point for some 40 miles (approximately 65 km) of woodland, streamside and seaside walks.
It is a landscape which inspired the romantic poets with its wooded gorges, tumbling Exmoor rivers and some of England's tallest cliffs.
Alternatively, visitors can linger here at Watersmeet and patronise the National Trust's handy cafe at Watersmeet House. The House is a former fishing lodge dating from approximately 1832. The National Trust took over in 1996, but it has been a tea garden since 1901. In fact, the walk to Watersmeet from Lynmouth is exactly the kind of romantic countryside walk that the Edwardians used to enjoy so much on a summer afternoon.
The shallow river here, full of large boulders, fast and clear, is more reminiscent of the Scottish Highlands than the typical English river scene. In fact, this river valley was the location of a terrible flood in 1952 which killed 34 people in Lynmouth and destroyed over a hundred buildings.
Further reading
Links to external websites are not maintained by Bite Sized Britain. They are provided to give users access to additional information. Bite Sized Britain is not responsible for the content of these external websites.