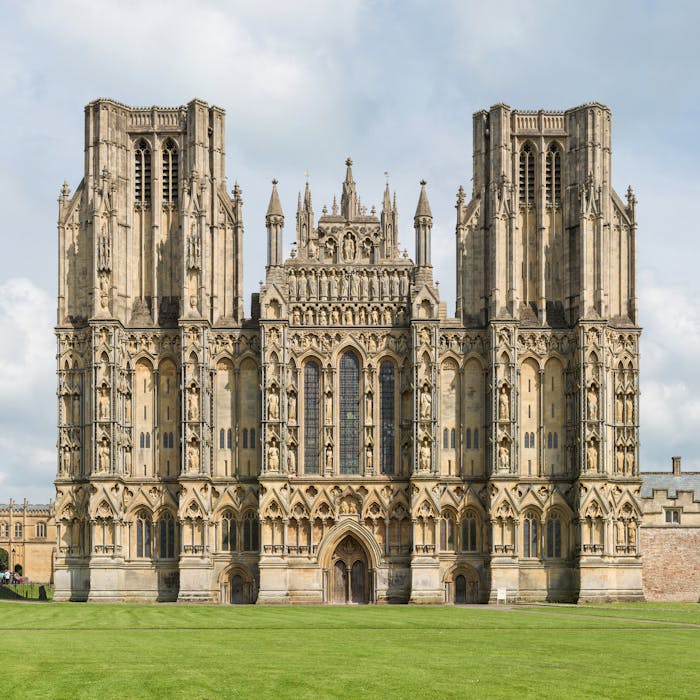 Wells Cathedral - Gothic delight full of treasures
Constructed between 1175 and 1490, Wells Cathedral in Somerset was the earliest English Cathedral to be built in the Gothic style. Among its notable features are a clock, which is said to have one of the oldest mechanisms in Britain.
Set in spacious grounds in the heart of England's smallest designated city, the cathedral is a popular visitor attraction, both in its own right and due to its pleasant location.
Wells Cathedral has unique features that distinguish it from other English cathedrals, including the beautiful 'scissor arches' supporting the central tower, which was added in 1338 after the weight of a new spire on the top of the tower threatened to collapse the whole structure.
The west front of Wells Cathedral contains the largest collection of medieval sculpture in England.
The Cathedral houses one of the largest collections of historic stained glass in the country. Experts agree that the Jesse Window at Wells Cathedral is one of the most splendid examples of 14th-century stained glass in Europe, narrowly escaping destruction during the English Civil War.
The Cathedral also boasts the famous Wells Clock (which is considered to be the second oldest clock mechanism in Great Britain), the fascinating octagonal Chapter House and one of only four chained libraries in the UK.
The wide and beautiful stone steps leading up to the Chapter House have been used as a setting many times in film and television, as has much of the rest of the Cathedral.
Several ecclesiastical buildings around the Cathedral have also survived, including a charming stone street of medieval houses and the Bishop's Palace, surrounded by its moat.
Further reading
Links to external websites are not maintained by Bite Sized Britain. They are provided to give users access to additional information. Bite Sized Britain is not responsible for the content of these external websites.