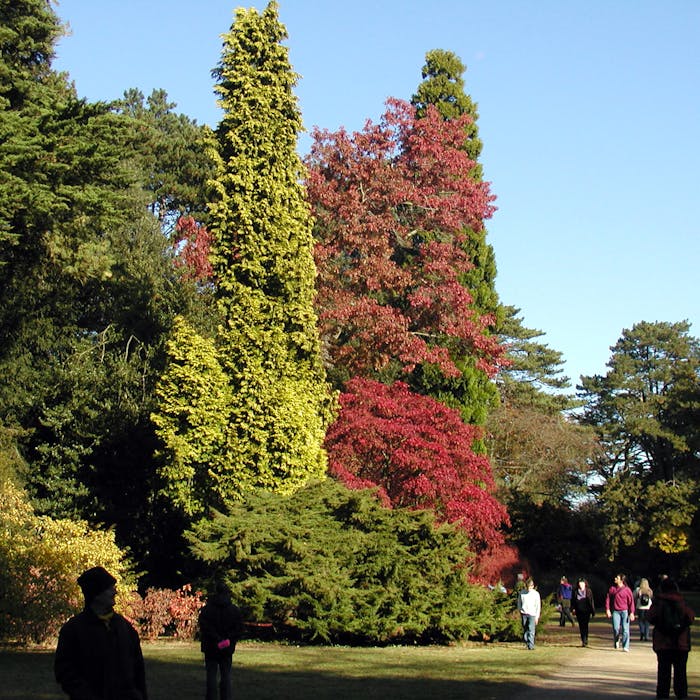 Westonbirt Arboretum - treasure trove of trees
Autumn is arguably the perfect time to visit the world famous Westonbirt National Arboretum in Gloucestershire. The diversity and vibrancy of leaf colours to be found here are claimed to be unsurpassed in Britain, with fruits, hips and berries in profusion. 
Westonbirt Arboretum comprises some 15,000 trees and shrubs, with 2,500 species of tree from all over the world, covering an area of approximately 600 acres (240 ha). Its 17 miles (27 km) of marked paths are popular with visitors, and provide access to a wide variety of rare plants. There are two main areas to explore. The Old Arboretum is a carefully designed landscape offering beautiful vistas, stately avenues, and a host of rare and exotic trees from across the globe dating back to the 1850s. Silk Wood is a very different experience: although it also contains many exotic plantings, at its heart is a traditional working woodland, dating back to the 13th century.
The arboretum is managed by Forestry England, which also manages Bedgebury Pinetum in Kent.
Planted in the heyday of Victorian plant hunting in the mid-19th century as part of the Westonbirt House estate, the arboretum forms part of a site which is listed Grade I on the Register of Historic Parks and Gardens of special historic interest.
In the mid 19th century the character and appearance of Westonbirt was transformed by Robert Stayner Holford. In 1829 he founded the arboretum on former common downland and he later laid it out with broad rides aligned on Westonbirt House. The collection of trees and shrubs from all parts of the world was continued by his successors and in 1956 the arboretum was acquired by the Forestry Commission and opened to the public. By the early 1970s it covered 117 acres and its comprehensive collection was known especially for its conifers and maples.
A particular attraction for any autumn visit is the Acer Glade in the Old Arboretum and Maple Loop in Silk Wood as Westonbirt Arboretum holds the national collection for maples and autumn is the time to see them in all their glory.
Further reading
Links to external websites are not maintained by Bite Sized Britain. They are provided to give users access to additional information. Bite Sized Britain is not responsible for the content of these external websites.