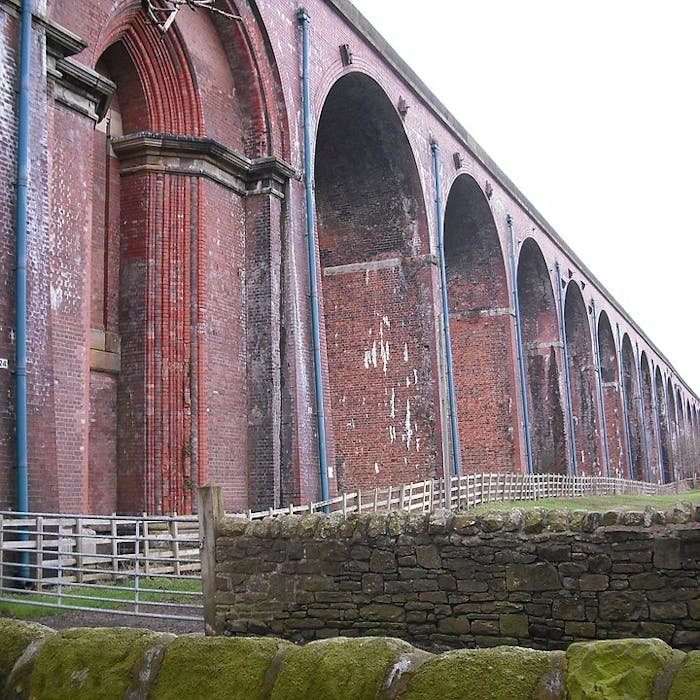 Whalley Viaduct - elegant engineering
This is a magnificent 48-span railway viaduct, crossing the River Calder close to the border of Lancashire and Yorkshire. It was built between 1846 and 1850 in a combination of red and blue bricks.
Though less well known than the famous Ribblehead Viaduct, located about 25 miles to the north, Whalley Viaduct is arguably more impressive as well as longer. It takes the Blackburn to Clitheroe railway line across the valley of the River Calder, under the shadow of Pendle Hill, widely associated with the Pendle Witch Trials.
The viaduct has 48 elegant arches, two of which have a distinctive decorative brick infill. They have a rather ecclesiastical quality from a distance and may have been introduced to reflect the importance of the 14th-century gatehouse of the nearby Whalley Abbey which the road serves. The gatehouse and abbey ruins are worth a visit in their own right.
At over 600 yards long, and 70 feet above the valley, the viaduct, known locally as the Whalley Arches,  required over six million bricks and over 12,000 cubic yards of stone to complete. During construction two of the arches collapsed, leading to three fatalities. The engineer was Terence Woulfe Flanagan who later constructed the railways between Antwerp and Rotterdam and between Lisbon and Santarem.
The line connects with lines in West and North Yorkshire and was closed to most passengers in 1962. It was kept open just for freight, and occasional passenger train diversions (due to track maintenance elsewhere) until 1994.
In 1994 a public campaign secured the re-opening of the line to passengers between Blackburn and Clitheroe (and onward to Hellifield on Sundays). Currently, the line is known as the Ribble Valley Line and serves both commuters and tourists.
In addition to the regular diesel-powered services, the line often runs special steam-hauled heritage services for which the crossing of this amazing viaduct is one of the unadvertised highlights. There are plans to re-open the line fully to passengers to allow scheduled passenger trains to join the famous Settle to Carlisle line.
Further reading
Links to external websites are not maintained by Bite Sized Britain. They are provided to give users access to additional information. Bite Sized Britain is not responsible for the content of these external websites.