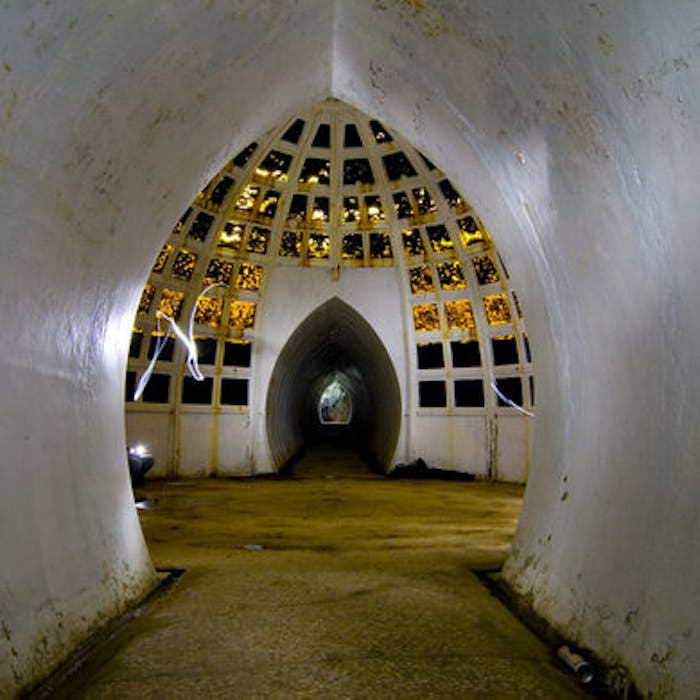 Whitaker Wright's underwater ballroom in Godalming, Surrey
Near Godalming, Surrey, lies a romantic hidden "ballroom" under a mansion lake. It was built by the famous swindler James Whitaker Wright with his ill-gotten gains, as a statement of his status in Victorian society. Whitaker Wright committed suicide with a cyanide pill at London's Royal Courts of Justice when he was subsequently convicted of fraud. 
Though now usually described as an underwater ballroom, the room was actually a subterranean smoking room built beneath a roof aquarium. It was the centrepiece of a lavish and flamboyant lifestyle that came to an ignominious end in 1904.
Whitaker Wright was from a fairly humdrum background. After several failed business ventures, he began to deal in shares in other companies, and became very rich. He made friends with the wealthy and influential, and gave them directorships of his enterprises, which impressed the public and potential investors.
To consolidate his place near the top of late Victorian society, Wright bought the Lea Park estate in Surrey from the Earl of Derby in 1890. He purchased neighbouring land to add to his extensive estate, now named Witley Park, and built a 32-room mansion, with three artificial lakes, complete with a boathouse commissioned from notable architect Edwin Lutyens.
The most unusual element of his new estate was the underground conservatory/smoking room with aquarium windows. This meant that, as they smoked, his guests could watch fish, or sometimes swimmers, overhead. A statue of Neptune rose out of the lake from the top of the underwater dome.
It all went wrong for Whitaker Wright at the turn of the century when one of his business ventures got into trouble. Seeking to hide his problems, Wright began to shuttle loans between his companies until they all collapsed in December 1900, causing a stock exchange panic. Wright fled but was bought back to stand trial, at the end of which, he committed suicide.
After Wright's death, the estate was auctioned off. In 1952, the mansion was destroyed in a fire. While new houses have been built on the site, the landscaped park and the now ancient-looking ballroom remain, along with two lodges now being renovated . 
Permission is occasionally granted to view the ballroom, but it isn't generally open to the public.
Further reading
Links to external websites are not maintained by Bite Sized Britain. They are provided to give users access to additional information. Bite Sized Britain is not responsible for the content of these external websites.