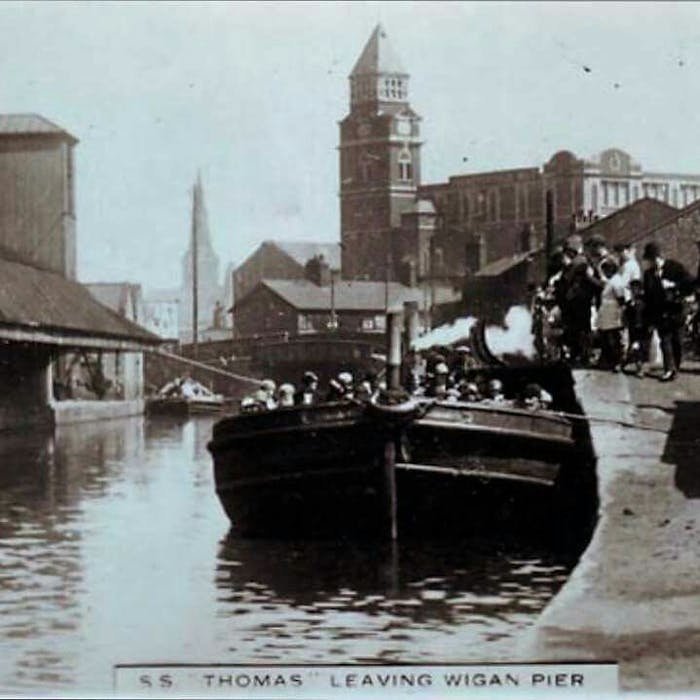 Wigan Pier - don't expect sea breezes!
Wigan Pier is a former industrial location on the Leeds and Liverpool Canal which runs through the town of Wigan in Greater Manchester.
The name was often used humorously or ironically to suggest a seaside pleasure attraction, when Wigan was, in fact, a smoky and polluted inland industrial town.
The original "pier" at Wigan was a wooden jetty, used for loading coal from local colliery wagons onto canal barges. The name came to popular attention via music hall songs and jokes of the early twentieth century, and was further immortalised with the publication in 1937 of George Orwell's book The Road to Wigan Pier. An unorthodox political treatise, it begins by describing Orwell's experiences when he went to live among and observe the lives of unemployed miners, and ends with a series of sharp satirical criticisms.
The joke of a disappointing tourist attraction was further enhanced when the pier itself was demolished in about 1929, so to take to the road to visit Wigan Pier became to go in search of something non-existent.
With the end of its original industrial role, there have been attempts to regenerate the area in recent decades, with the canal warehouses restored and used as a museum, exhibition hall and pub. The nearby Trencherfield Mill was incorporated into the one-time Wigan Pier Experience, with a waterbus linking it to the main site.
The Way We Were museum in one of the restored warehouses featuring a Victorian schoolroom and colliery, closed in 2007 and has stood empty ever since.
Plans for further visitor and residential enhancements have made limited progress.
Further reading
Links to external websites are not maintained by Bite Sized Britain. They are provided to give users access to additional information. Bite Sized Britain is not responsible for the content of these external websites.