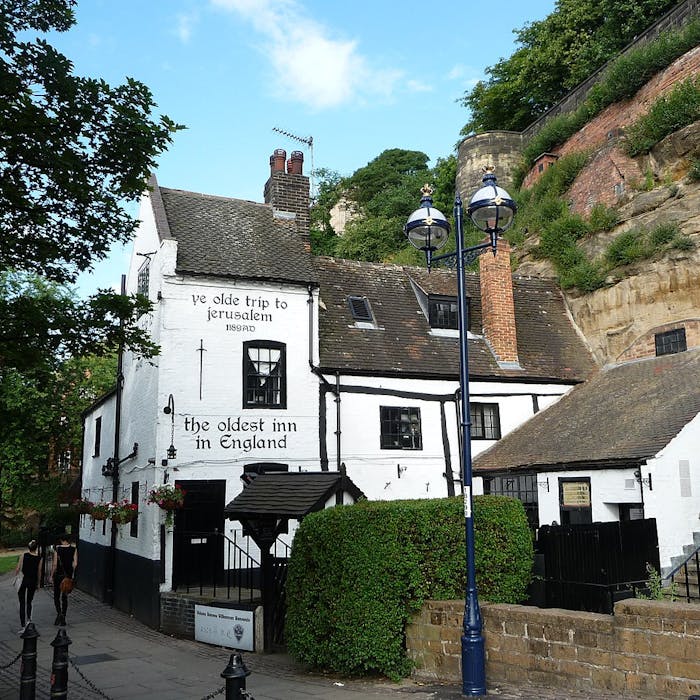 Ye Olde Trip to Jerusalem in Nottingham - the oldest inn in England?
Ye Olde Trip to Jerusalem in the city of Nottingham claims to be the inn with the longest history in England, established in 1189. It backs onto a series of caves in the sandstone under Nottingham Castle, which were reputedly used as a brewhouse for the castle in the medieval period.
The pub is said to have been established the year that Richard the Lionheart became king, and Pope Gregory VIII called for a Third Crusade to the Holy Land; however, there is no documentation to verify this actual date.
Situated at the base of the cliffs beneath Nottingham Castle, the pub began as a brewhouse in the 12th century to provide a sterile beverage for the people of Nottingham. Although the current building does not date back to the 12th century, the location is the same as the castle brewhouse.
In the 12th century, the rock caves below the castle were the perfect environment for brewing, and the remnants of this original brewhouse can still be seen in the series of cellars and underground passages below the current pub. Evidence of its medieval use has also been found, including a speaking tube running from the castle to the brewhouse, where orders for ale could be placed.
The oldest parts of the current building were probably constructed between 1650 and 1660, though a map by John Speed shows a previous building in existence in 1610. By 1751 the building was being used as an inn.
The earliest known reference to the name Ye Olde Trip to Jerusalem was in 1799. Before being known by its current name, the pub was called The Pilgrim and references to this name date back to 1751.
The current name is believed to come from the belief that pilgrims or crusaders would stop at the inn on their journey to Jerusalem. The word "trip" at this period referred to a stop on a journey, rather than the journey itself. The building is now Grade II listed.
The larger ground level caverns are now used as the pub's rear drinking rooms.
Further reading
Links to external websites are not maintained by Bite Sized Britain. They are provided to give users access to additional information. Bite Sized Britain is not responsible for the content of these external websites.